Steven Spielberg's 'Ready Player One' Enlists Simon Pegg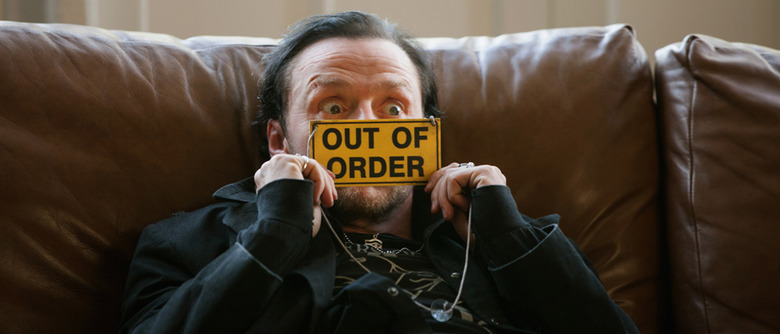 Steven Spielberg's next film, Ready Player One, is an ode to pop culture geekdom, so of course he's enlisted one of the most beloved pop culture geeks around. Simon Pegg is in talks to join the sci-fi adventure film, opposite Tye Sheridan, Olivia Cooke, and Ben Mendelsohn. 
Based on the bestselling novel by Ernest Cline, Ready Player One unfolds in a desolate and not-too-distant future, following a teenager named Wade Watts (Sheridan) who spends most of his time escaping into a vast virtual reality universe called OASIS. When OASIS co-founder James Halliday dies, he leaves behind a treasure hunt promising his entire multibillion-dollar fortune to the gamer who can find a certain Easter egg buried deep within OASIS.
It just so happens that Halliday had an obsession with 1980s pop culture* — one that Wade shares, which gives him a leg up in the competition. As the race to find that Easter egg heats up, however, the dangers of the game begin to have real-life consequences. As previously reported, Cooke will play a fellow "gunter" (egg hunter) named Art3mis, while Mendelsohn portrays the villain, a representative of a giant corporation that will stop at nothing to snatch Halliday's prize for themselves.
(* This includes the films of Steven Spielberg, naturally, though the director has said he might omit references to his own movies.)
THR reports Pegg is negotiating to play Ogden Morrow, the co-creator of OASIS. It won't be Pegg's first time working with Spielberg — he previously voiced a character in the director's The Adventures of Tintin, and had a supporting role in his HBO series Band of Brothers.
Pegg knows a thing or two about pop culture obsessions, as seen in much of his work stretching all the way back to Spaced. In fact, he's between two iconic geek properties right now: his last role was an uncredited cameo in Star Wars: The Force Awakens, and his next onscreen role is as Scotty in Star Trek Beyond (which he also co-wrote). His other recent credits include Mission: Impossible – Rogue Nation.
Ready Player One begins shooting in June for release on March 30, 2018.