'Genius' Trailer: Discover What Book Editors Lose Sleep Over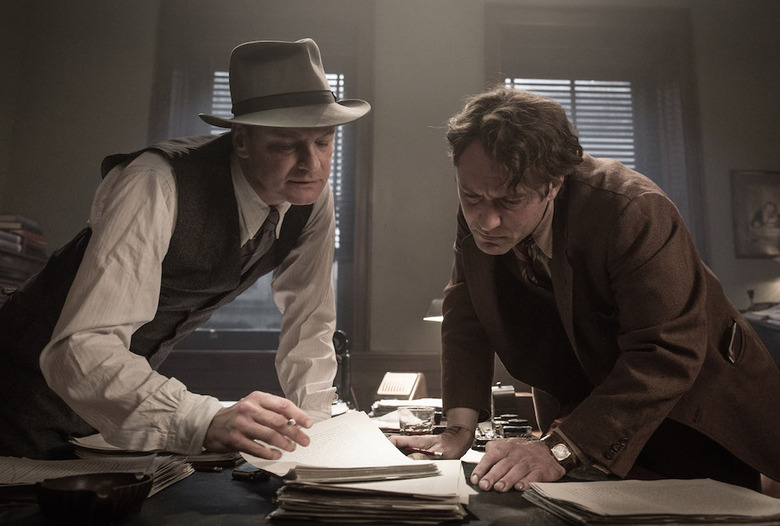 A two-hour movie about a book editor might not be the most enticing subject matter for some filmgoers, but Genius isn't just about any book editor. Maxwell Perkins (Colin Firth) was the editor that discovered literary Gods, such as F. Scott Fitzegerald (Guy Pearce), Ernest Hemingway (Dominic West), and Thomas Wolfe (Jude Law). Tony Award-winning director Michael Grandage makes his feature directorial debut with Perkins' story.
Watch the Genius trailer below.
Set in the 1920s, this true-life story focuses on the writing and editing of Thomas Wolfe's acclaimed novel, "Look Homeward, Angel." As shown in the trailer, Wolfe and his editor, Perkins, had a complicated friendship. The biopic recently premiered at the Berlin Film Festival, and most of the reviews weren't positive. A few critics claimed that the film, based on the biography "Max Perkins: Editor of Genius" by A. Scott Berg, doesn't provide enough insight into Wolfe and Perkin's relationship.
In addition to Colin Firth, Jude Law, Dominic West, and Guy Pearce, the drama also stars Nicole Kidman and Laura Linney. Here's the Genius trailer (source: Yahoo! Movies):
A fairly routine trailer for a true-life story, but keep in mind, the film is written by Academy Award-nominated screenwriter John Logan, an excellent storyteller with a tremendous knack for language. The screenwriter is capable of making the most potentially mundane scenarios, like perhaps ones focused on book editing, exciting. For example, Logan's show, Penny Dreadful, features no shortage of exposition, backstory, and interior dialogue scenes — all of which he manages to make dramatic.
The writer's dialogue is generally a treat to listen to. Considering Logan is writing Thomas Wolfe and Ernest Hemingway in this instance, we should at least expect some exciting exchanges between all the geniuses present in Grandage's film.
Here's the official synopsis for Genius:
From Academy Award-nominated screenwriter JOHN LOGAN (Gladiator, The Aviator, Hugo, Skyfall) and acclaimed, Tony Award-winning director MICHAEL GRANDAGE in his feature film debut, comes Genius, a stirring drama about the complex friendship and transformative professional relationship between the world-renowned book editor Maxwell Perkins (who discovered F. Scott Fitzgerald and Ernest Hemingway) and the larger-than-life literary giant Thomas Wolfe. Based on the biography "Max Perkins: Editor of Genius" by A. SCOTT BERG, Genius stars COLIN FIRTH as Perkins, JUDE LAW as Wolfe, NICOLE KIDMAN as Aline Bernstein, a costume designer sharing a tumultuous relationship with Wolfe, LAURA LINNEY as Louise Perkins, Max's wife and a talented playwright, GUY PEARCE as F. Scott Fitzgerald and DOMINIC WEST as Ernest Hemingway.
Genius opens in theaters June 10th.