'The Legend Of Tarzan' Trailer: Alexander Skarsgård Goes Wild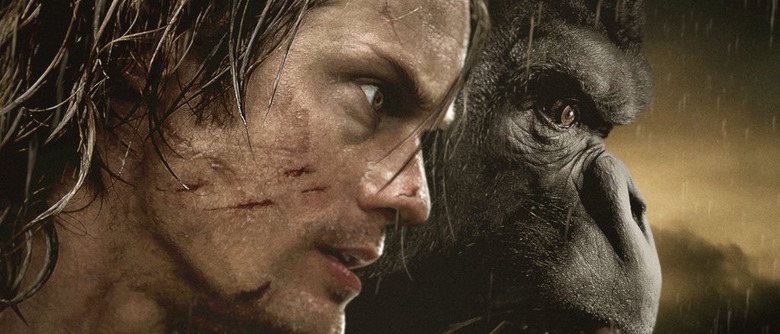 Fans of young men abandoned in jungles and raised by wild animals are having a banner year in 2016. Not only is Disney's The Jungle Book coming out next month, but this summer brings The Legend of Tarzan, starring Alexander Skarsgård as the iconic Edgar Rice Burroughs character.
Except this Tarzan isn't really going by Tarzan anymore. Nowadays he's John Clayton III, Lord Greystoke, living out a genteel life with his wife Jane (Margot Robbie) in 1880s London. But when a greedy plot by Captain Leon Rom (Christoph Waltz) brings him back to the Congo, he needs to get in touch with his wild side again in order to save the day. Watch the new Legend of Tarzan trailer after the jump. 
Whereas the last Legend of Tarzan trailer emphasized that this Tarzan wasn't the wild child we remembered, the new trailer focuses more on the familiar beats of the classic story: the desperate parents lost in the jungle, the adorable baby boy taken in by a mother ape. Unfortunately, Robbie's Jane doesn't seem to have much to do other than look distressed — although Yates has said that their relationship is "a story of two human beings and how they save each other," so maybe there's more to the character that we haven't seen.
The Legend of Tarzan is pure fantasy, but there are nods to the real-life history of colonialism. Waltz's villainous character is inspired by the Belgium's King Leopold II, who initially passed himself off as a philanthropist, but then claimed the Congo as his colony and perpetrated a mass genocide. And Samuel L. Jackson plays George Washington Williams, a real-life Civil War vet who stood up against King Leopold. Also starring is Djimon Hounsou as Chief Mbonga.The Legend of Tarzan opens July 1 in 2D, 3D, and IMAX.
It has been years since the man once known as Tarzan (Skarsgård) left the jungles of Africa behind for a gentrified life as John Clayton III, Lord Greystoke, with his beloved wife, Jane (Robbie) at his side. Now, he has been invited back to the Congo to serve as a trade emissary of Parliament, unaware that he is a pawn in a deadly convergence of greed and revenge, masterminded by the Belgian, Captain Leon Rom (Waltz). But those behind the murderous plot have no idea what they are about to unleash.