Original DeLorean Time Machine From 'Back To The Future' Heading To Petersen Auto Museum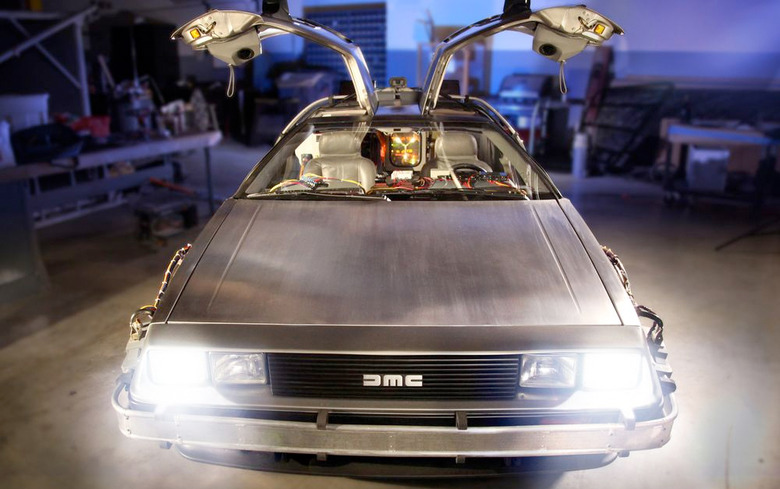 Not too long ago, we learned that new DeLorean cars would be manufactured beginning in 2017, but they were going to cost significantly more than they did when the car was originally sold back in the 1980s. But if you don't have the cash to buy your own DeLorean, you'll just have to settle for being able to see the original DeLorean time machine from Back to the Future when it heads to its new home at the Petersen Automotive Museum in Los Angeles. Find out more about the new Back to the Future DeLorean exhibit at the museum below.
Petersen Automotive Museum has announced that the iconic automobile from the Robert Zemeckis sci-fi trilogy will be heading to their show floor on permanent loan from Universal Studios, where it has been on display for years. Larry Kurzweil, President of Universal Studios Hollywood says:
The Back to the Future films are part of Universal Studios' legacy, and we take enormous pride in preserving its history. From the original movie sets on the Universal backlot to the DeLorean that has been on display for guests from around the world to enjoy, the films continue to resonate and we are incredibly pleased to share this iconic hero car with the Petersen Automotive Museum to enable future generations to go back to the future.
Museum members and the media will be allowed to check out the car at an exclusive unveiling on Wednesday, April 20th, but otherwise the car will make its debut at the museum on Friday, April 22nd, kicking off a month-long celebration of the car and Back to the Future. Here's some pictures of the car:
On Saturday, April 23rd there will be an Enchantment Under the Sea dance, as seen in Back to the Future. Marty McFly and the Starlighters won't be performing, but '80s rock band Missing Persons and Back to the Future tribute band The Flux Capacitors will be. Tickets will be $40 for the public, or $20 for museum members.
Other events include a cruise-in event for DeLorean owners, a screening of the documentary that chronicles the restoration of the vehicle, and a screening of the first Back to the Future movie. For more details on all the events, head to Petersen.org's Back to the Future page.
If you haven't seen it, check out the DeLorean time machine mashed up with K.I.T.T. from Knight Rider right here.