'Heat' Prequel In Development From Michael Mann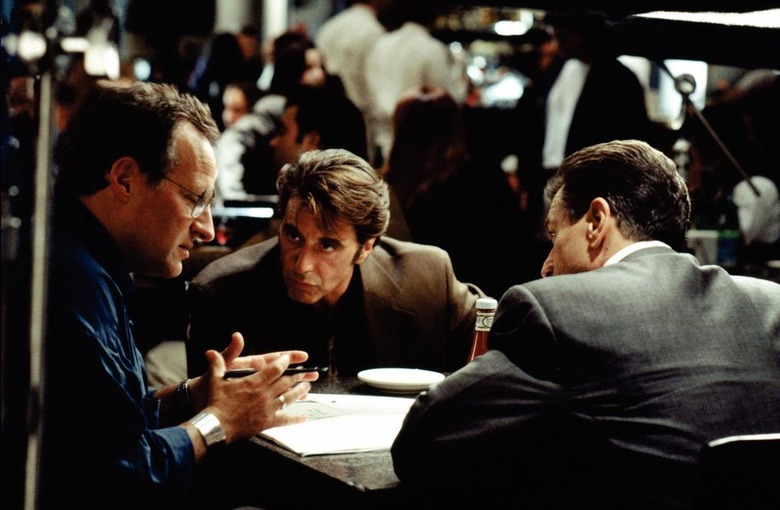 Director Michael Mann is working on a prequel to his classic 1995 crime thriller, Heat. The director of Collateral and The Last of the Mohicans has just closed a deal to launch Michael Mann Books, and he's digging into his past work to find potential stories to tell. The Heat prequel, which will first be published as a novel, is apparently a major priority for Mann at the moment.
Deadline reports the imprint will collaborate with a stable of writers, and the material they generate, including the Heat prequel, will be simultaneously developed for TV and film. The Heat prequel will focus on the formative years of detective Vincent Hanna (Al Pacino), criminal Neil McCauley (Robert De Niro), Chris Shihirles (Val Kilmer), Nate (Jon Voight), and other characters featured in Heat. Mann wrote, produced, and directed the thriller, based on cops and criminals he's encountered.
Mann might share credit on some of the stories Michael Mann Books generates. The gang of writers assembled will collaborate with the director on both fiction and nonfiction books. Deadline notes that discussions with potential publishers will take place soon. The venture is repped by The Story Factory's Shane Salerno, a screenwriter who's working on the Avatar sequels and an adaptation of The Cartel. Salerno also who wrote early drafts of Meg, the long-awaited killer shark movie we recently wrote about.
A Heat prequel, at least as a novel, actually sounds promising. Mann worked on the film for well over a decade, trying to get it made. At one point, he even reworked Heat's script into the 1989 TV movie, LA Takedown. Over that long period of time, Mann did extensive research, and the director probably still has a wealth of material at his disposal he's yet to use.
Hanna and McCauley's relationship was loosely based on that of Detective Chuck Adamson and criminal Neil McCauley, and the two men did in fact once have a conversation over coffee. Perhaps there is more to their story Mann is interested in telling as well. Hanna, McCauley, and Shihirles are all fascinating characters, so it's understandable the director would want to return to them.
If all goes according to plan with Michael Mann Books and this Heat prequel, maybe we could see Heat follow in the footsteps of Training Day and Lethal Weapon, which are both currently being adapted for television. Some of Mann's fans will likely be skeptical of this idea, understandably, but a prequel to Heat, especially with Mann involved, sounds a whole lot more interesting than a remake of Heat without Mann's involvement, which will is probably bound to happen one day.