Star Wars And Indiana Jones Prints Coming From Mondo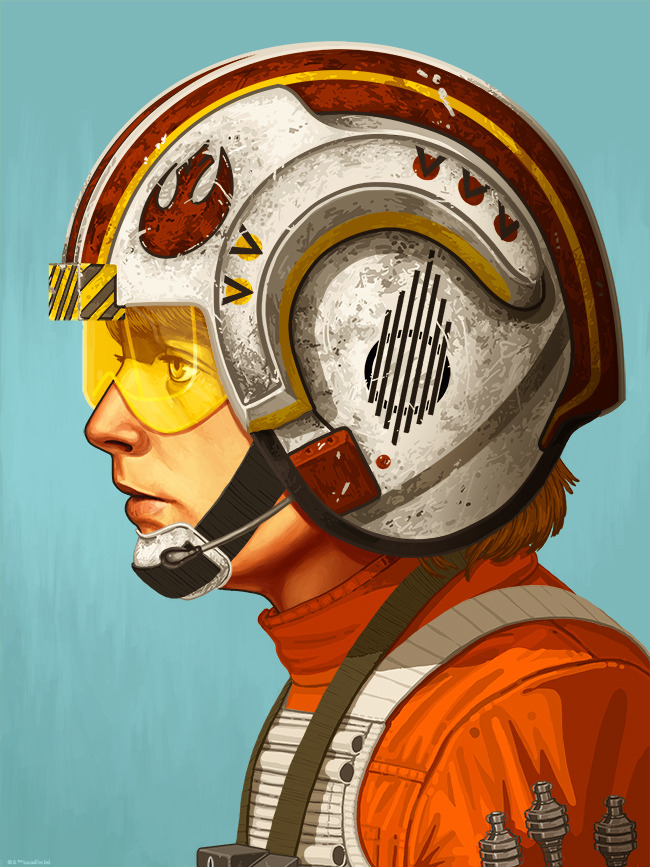 Pop culture art company Mondo announced this morning that they are teaming with ACME Archives to create and offer licensed prints for Star Wars and Indiana Jones. Of course you now that Mondo has the Star Wars license for a very short time where they created some of the most amazing Star Wars art outside of Drew Struzan's iconic illustrated posters. This included original trilogy sets by Olly Moss and Tyler Stout. This new partnership could bring us some real amazingness as Mondo works with some of the top arts today. Hit the jump to see the first print in this upcoming partnership.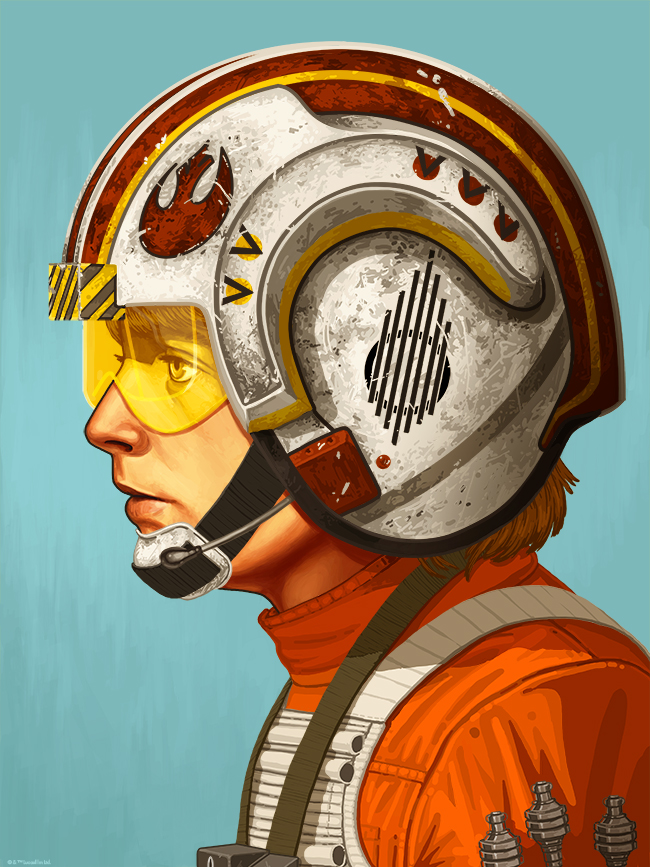 The first print in this partnership between Mondo and Acme is a profile of Luke Skywalker in his X-Wing pilot gear create by Mike Mitchell. It is the first in a series of Star Wars profiles from Mitchell. The 12" x 16" giclee print, titled "Red Five," will be available as a timed sale for 72 hours starting on Thursday, March 17. I own some of Mitchell's prints but I've never been a huge fan of his profile series — I guess I'm more into traditionally styled poster artwork.
But it is cool that this is being sold as a timed edition, which will allow anyone who wants to buy the print the ability to do so within the 72 hours it's on sale. I'm wondering if the same thing will be done with future releases.
What might we expect from the Mondo/Acme partnership? What kind of cool Star Wars and Indiana Jones prints can we expect? Who knows. I'm hoping for some really cool stuff on Indiana Jones because we've already gotten a lot of great Star Wars art but a lot of the big artists have not yet tried their hand at Indy. Imagine Moss or Stout doing an Indiana Jones set? Or imagine either of those artists doing a Star Wars: The Force Awakens poster to add side by side with their work inspired by previous trilogies. Let's not forget that artist Olly Moss Instagrammed the following photo 11 weeks ago: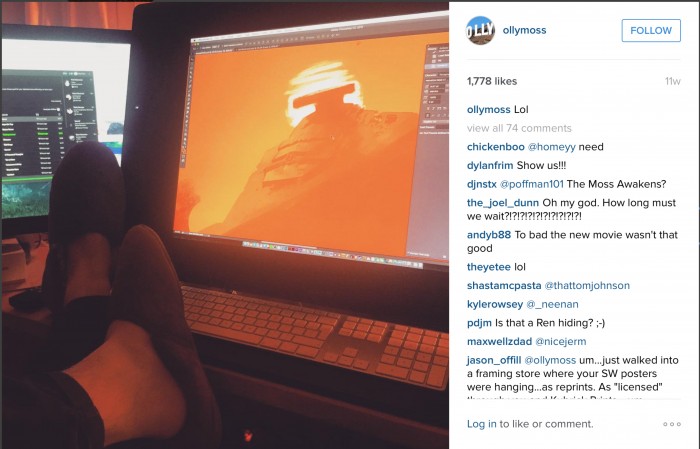 You can read the full press release below:
Mondo Partners with Acme Archives to Produce Screen Prints for "Star Wars" and "Indiana Jones"Mondo Kicks Things Off with Luke Skywalker And Looks Forward to the Very First Mondo Art for Indiana JonesAustin, TX – Wednesday, March 16, 2016 – Mondo is thrilled to announce its new partnership with Acme Archives to create and offer licensed prints for Star Wars and Indiana Jones, two of the greatest film series of all time. In 2010, Mondo artists created a stunning limited run of original works of art based on the original Star Wars trilogy, which included the now iconic triptych of minimalist brilliance by artist Olly Moss. Mondo is ecstatic to return to the galaxy far far away and will also be producing its first ever film prints for everyone's favorite archeologist. As part of the Mondo-Acme relationship, fans can also expect limited-edition products from their favorite DreamWorks Animation properties, The X-Files and more."We've been a fan of Acme Archives and what they do for years. I think this partnership presents a really great opportunity for new properties, new artist relationships, and overall, a really exciting bunch of releases," said Mondo Creative Director Mitch Putnam.Lisa McLain of Acme Archives happily pointed out, "Most of our staff collects Mondo posters and we have always had tremendous respect for their creative direction. We have been working on this relationship for years and are so happy to see it come to fruition."The new partnership with Acme kicks off with an amazing print from artist Mike Mitchell, profiling Luke Skywalker in X-Wing flight gear. This is the first in a series of Star Wars profiles from Mitchell. The 12x16 giclee print, titled "Red Five," will be available as a timed sale for 72 hours starting on Thursday, March 17."Despite being a pop culture powerhouse, Star Wars never ceases to inspire me due to its breadth of wonderfully original and creative characters. I'm excited to have the opportunity to show you my favorites. I think if you're a fan of Star Wars, you're going to enjoy what's in store," said artist Mike Mitchell.Visit the Mondo official site & social handles for more information:MondoTees.comTwitter.com/MondoNewsFacebook.com/MondoTeesInstagram.com/MondoTeesAbout MONDOMondo is an art gallery and online store devoted to a passionate love of film, art, music and toys. The company has received global recognition for bringing art back to movie poster design and has emerged as one of the leading curators of classic and contemporary film soundtracks on vinyl. Utilizing the talents of world class artists and designers, Mondo produces limited edition, screen printed posters based on film, television and comic properties, working with the leading entertainment brands including DC Comics, HBO, Marvel, Paramount Pictures, Universal Studios, Walt Disney Studios and Warner Brothers as well as filmmakers like Paul Thomas Anderson, Guillermo Del Toro, Zack Snyder, Quentin Tarantino and Edgar Wright. Based in Austin, TX, Mondo operates out of a permanent gallery space, hosting regular exhibitions featuring a blend of breathtaking original artwork and limited edition screen prints. Mondo aspires to be a creative home for artists and designers to work and have their visions realized, whether through posters, gallery shows, vinyl, apparel or toys. Their first convention in 2014, MondoCon, was a celebration of art, music, film and their creators. Mondo is also recognized by the Academy of Motion Picture Arts & Sciences with a full archive of film posters as part of their research library. The parent company of Mondo is Alamo Drafthouse.ACMECreated in 1996 by founder Lisa McLain Acme Archives has grown to be a leader in officially licensed art products from many pop-culture titles. Acme Archives is the official licensee for art products from many motion picture, gaming and television studios including Twentieth Century Fox, Halo, DreamWorksDisney, Disney- Lucasfilm, Warner Bros- DC Comics, Blizzard, *Disney Star Wars and Indiana Jones. Acme is a staple at Comic Con San Diego and engages in many other art events throughout the year. Acme has recently launched its Marquee Artist Program presenting art from some of the top entertainment and fine artists in the market today. See www.acmearchivesdirect.com for details.*Acme's Classic Disney License is for greater China. "Disney," "Star Wars" and "Indiana Jones" are registered trademarks of the Walt Disney Company. All right reserved.