'Central Intelligence' Trailer: Dwayne Johnson Is A Jason Bourne In Jorts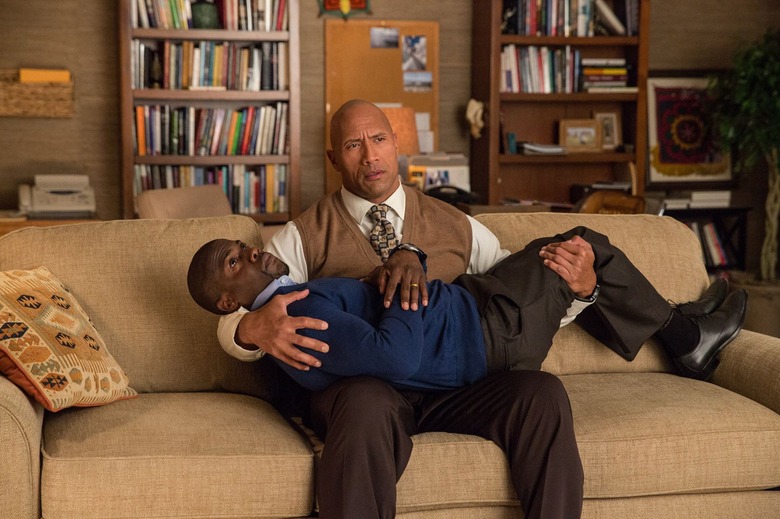 In real life, it's hard to imagine anyone disliking Dwayne Johnson, much less wanting to pick on him. He's the kind of star everyone loves, from your mom to your best friend to your kid brother. But in the new trailer for Central Intelligence, he's a former outcast named Bob who was bullied in high school. One of the few people to show him kindness, in fact, was Calvin (Kevin Hart), then the big man on campus.
20 years later, Bob resurfaces as a buff, handsome CIA agent. And he needs Calvin's help. Never mind that Calvin, now a mild-mannered accountant, wants nothing to do with the wild and unpredictable case Bob's working on. Watch the latest Central Intelligence trailer after the jump. 
Leaving aside the fact that Hart and Johnson seem to have been cast for their last names ("a little Hart and a big Johnson!") as much their actual talents, these two actually seem to make a pretty good pair. Hart seems a bit more muted than usual here, while Johnson gets to radiate weird charisma as Bob. Oh, and Central Intelligence comes from director Rawson Marshall Thurber, who previously gave us Dodgeball and We're the Millers. That "buddy cop" formula might not be anything spectacularly new, but Central Intelligence looks like it could be a fun summer treat.
Central Intelligence hits theaters June 17.
The story follows a one-time bullied geek who grew up to be a lethal CIA agent (Johnson), coming home for his high school reunion. Claiming to be on a top-secret case, he enlists the help of the former "big man on campus" (Hart), now an accountant who misses his glory days. But before the staid numbers-cruncher realizes what he's getting into, it's too late to get out, as his increasingly unpredictable new friend drags him through a world of shoot-outs, double-crosses and espionage that could get them both killed in more ways than he can count.