'Queen Of The Desert' Trailer: Werner Herzog's First Narrative Feature In Seven Years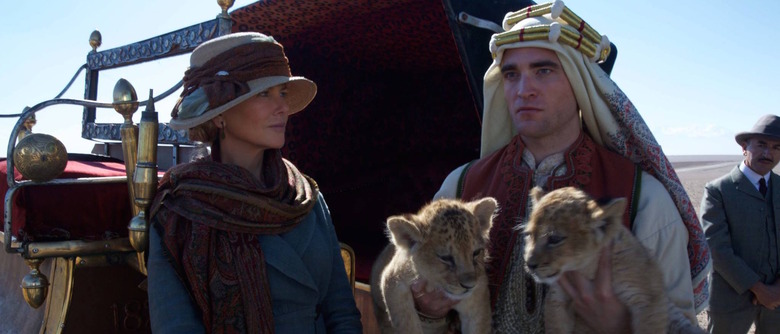 It was presumed Werner Herzog's Queen of the Desert would open in theaters last fall, but we're still waiting on a release date for the biopic. After an underwhelming festival response, the wait makes sense. Herzog's epic, starring Nicole Kidman and Robert Pattinson, might not be the awards contender some predicted – but it's still a Herzog film, so, awards worthy or not, it's still on our radar.
Watch the Queen of the Desert trailer below.
The film premiered over a year ago at the Berlin Film Festival. Kidman stars as Gertrude Bell, an English explorer often described as the "female Lawrence of Arabia." Pattinson, inhabiting the extraordinary role once performed by the great Peter O'Toole in Lawrence of Arabia, plays T.E. Lawrence.
Here's the Queen of the Desert trailer:
When Queen of the Desert finally comes out, it'll most likely be compared to Lawrence of Arabia, because that opening shot of the desert landscape alone is bound to draw comparisons. That's probably more unfair than fair, though. How could Queen of the Desert possibly be expected to live up to David Lean's epic? Then again, as familiar as some elements appear, Herzog's drama looks like it might stand on its own. There's plenty to distinguish Bell's story from Lawrence's.
Here's the synopsis:
A true story of the life of British explorer and adventurer, Gertrude Bell, QUEEN OF THE DESERT chronicles her journeys of love and loss in the Middle East during the early 20th century.
Academy Award winner Nicole Kidman (THE PAPERBOY, RABBIT HOLE, AUSTRALIA, THE HOURS) stars alongside Academy Award nominated James Franco (SPRING BREAKERS, RISE OF THE PLANET OF THE APES, 127 HOURS), Golden Globe & Emmy Award winner Damian Lewis ("Homeland", KEANE, "Band of Brothers"), and Robert Pattinson (THE ROVER, MAPS TO THE STARS, WATER FOR ELEPHANTS) . A curious and adventurous young woman eager to explore the world outside of England, Gertrude Bell (Kidman) goes to the British embassy in Tehran where she quickly falls in love with a secretary of the embassy, Henry Cadogan (Franco). This sparks the beginning of a life-long adventure among the beautiful but misunderstood peoples and cultures of the Middle East. Along the way, her path intersects with archaeologist T.E. Lawrence (Pattinson) also known as Lawrence of Arabia, and Major Charles Doughty-Wylie (Lewis), the British Consul General in the Ottoman Empire.
The story of QUEEN OF THE DESERT is based on the true-life story of Gertrude Bell, who was a British political officer and archaeologist but ultimately a trailblazer on her terms. The story details the extraordinary adventures of Bell wrestling with the conflicts of love and tragedy, enemy and friend, and foreign and familiar as she sought to understand and unify people from different cultures.
Queen of the Desert is currently without a U.S. release date.