'Mr. Robot' Season 2 Will Explore Privacy And Data Encryption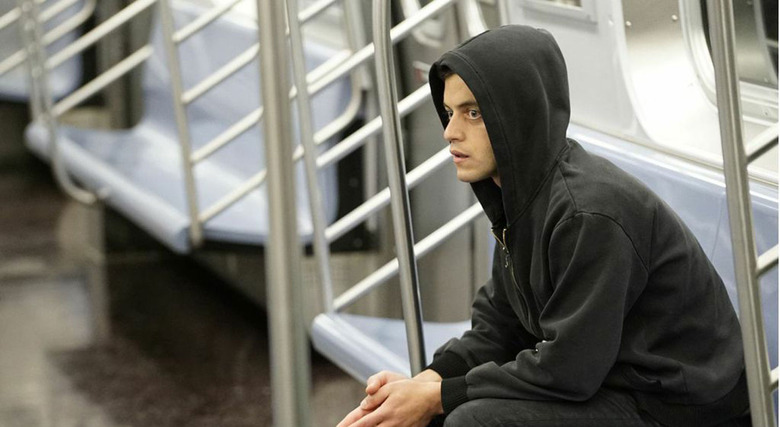 Filming on Mr. Robot season two recently commenced. The USA drama just added Craig Robinson, Joey Bada$$, Chris Conroy, and Mimi Gummer to the cast of the upcoming season. Outside of who's new to the cast, who's returning and what roles have been beefed up for season two, we know a decent amount about to expect from Mr. Robot season two.
At SXSW this weekend, though, series creator Sam Esmail shed more light on what's in store for Mr. Robot fans.
Esmail, Rami Malek, and Christian Slater attended SXSW this past weekend, appearing on the panel "Coding on Camera: Mr. Robot and Authenticity on TV." While in attendance, Esmail said season two would deal with privacy and data encryption (source: Variety):
What's weird is we're really going into thematically talking a lot about encryption and privacy, and this whole thing with Apple and Tim Cook happened, which I actually think is a really important issue that we're really going to get into in the next 10 years or so. It's not something that I think people really understand the nuances of, but it's going to be interesting public discourse about it, because it really brings up the idea of the rights to privacy and do we have them, do we not?
There's currently a dispute between Apple CEO Tim Cook and the FBI, due to the government's insistence on bypassing security features on an iPhone found during the investigation into the San Bernardino shootings. Apple did everything they could to assist the investigation, until they were asked to do the following:
They have asked us to build a backdoor to the iPhone. Specifically, the FBI wants us to make a new version of the iPhone operating system, circumventing several important security features, and install it on an iPhone recovered during the investigation. In the wrong hands, this software — which does not exist today — would have the potential to unlock any iPhone in someone's physical possession.
Creating that backdoor could be dangerous. As Apple says, the government is basically asking them to hack their own users, and the company doesn't want to make its customers more vulnerable to any potential risks. Everything going on with Tim Cook and Apple could certainly provide a greater sense of relevancy to Mr. Robot season two.
Esmail didn't say too much regarding the plot of the new season, which he'll direct every episode of, but he hopes it'll contribute to this ongoing conversation regarding privacy:
To bring it up and have a conversation about it ... I don't think people understand the nuances of that debate between Apple and the FBI. If our show at least contributes to that conversation and brings up that conversation again, I think it'll help in terms of getting people to actually join this debate, 'cause I think it's a really important one.
Esmail added that Grace Gummer's casting plays into the "ramifications" of the crime Elliot (Malek) committed. The showrunner wanted to keep law enforcement out of season one, to make it a key storyline in Mr. Robot season two. No official premiere has been set, but it's presumed the USA drama will return this summer.