'Green Room' Trailer: Patrick Stewart And Some Skinheads Face Off With A Punk Band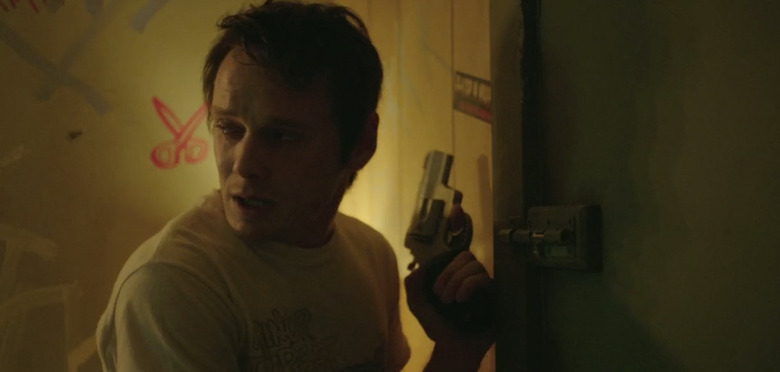 Many know Patrick Stewart as the fearless Captain Jean Luc Picard from Star Trek: The Next Generation, or as Professor X, the noble mentor and leader of the X-Men. But this spring, we'll see him in a role unlike any other he's played before, and it's pretty terrifying.
Green Room is the next thriller from Blue Ruin director Jeremy Saulnier, and it delivers the intense, brutal and thrilling face-off between a punk band (including Anton Yelchin and Imogen Poots) in the wrong place at the wrong time and a group of methodical, calculated neo-Nazis led by none other than Stewart. Watch a new Green Room trailer that teases this suspenseful match-up after the jump.
Here's the new Green Room trailer straight from A24:
Having caught the film at Sundance back in January, I can tell you that Green Room may be more conventional than Jeremy Saulnier's directorial debut with Blue Ruin, but it's also more savage and riveting. This is one bloody battle between neo-Nazis and punks, and they're not all going to make it.
Stewart is intimidating as hell in his stone cold performance. In addition, Mark Webber turns in a surprising performance and Blue Ruin star Macon Blair has a key supporting role as well. Meanwhile the band also counts Alia Shawkat among them. Every single person on this cast is a top notch actor.
If you want to see a much more intense tease for this outstanding thriller, check out the red band trailer right here.
Down on their luck punk rockers The Ain't Rights are finishing up a long and unsuccessful tour, and are about to call it quits when they get an unexpected booking at an isolated, run-down club deep in the backwoods of Oregon.  What seems merely to be a third-rate gig escalates into something much more sinister when they witness an act of violence backstage that they weren't meant to see.  Now trapped backstage, they must face off against the club's depraved owner, Darcy Banker (Patrick Stewart), a man who will do anything to protect the secrets of his nefarious enterprise.  But while Darcy and his henchmen think the band will be easy to get rid of, The Ain't Rights prove themselves much more cunning and capable than anyone expected, turning the tables on their unsuspecting captors and setting the stage for the ultimate life-or-death showdown.
Green Room opens in limited release on April 15, 2016 before going wide on April 29, 2016.