'Orphan Black' Season 4 Trailer: More Krystal, More M.K., And A Little Clue About Delphine's Fate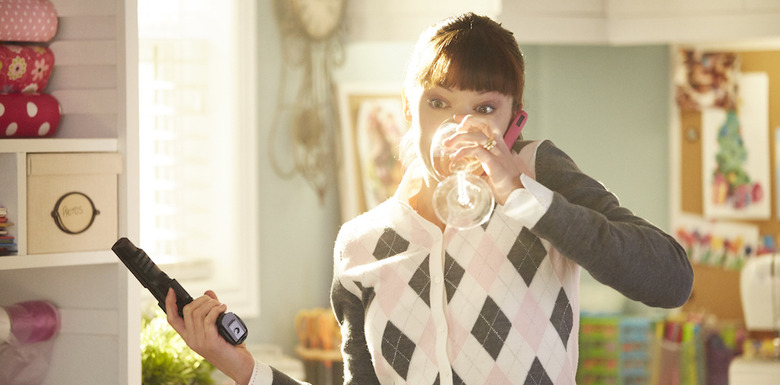 If you're already hooked on Orphan Black, we probably don't need to tell you that the new season will be arriving shortly. But just in case you need a reminder — or just in case you're desperate for a little bit of Orphan Black to tide you over until the new episodes arrive — BBC America has dropped another new trailer for Orphan Black season 4. See if you can keep up with all the latest twists and turns after the jump.
Like the last Orphan Black season 4 trailer, the new one has a musical rhythm to it, with perfectly timed shrieks, snaps, yelps, and claps. But while you nod along to that irresistible beat, you'll want to keep your eyes out for hints about the upcoming season. For starters, there's a little clue about Delphine's fate: her official employment file has her classified as "suspended," not "deceased," which could suggest she survived that gunshot wound in the season 3 finale. There's also lot more of Krystal, including a scene of her walking into what appears to be a fertility clinic, and some more footage of M.K., the newest new clone.
And as usual, all of these characters serve as a great reminder of just how versatile Tatiana Maslany can be — not to mention how good her hair and makeup team are at crafting believable and distinctive looks for all of the various sestras.
Orphan Black season 4 premieres April 14 at 10/9c — which is a Thursday, so keep that in mind if you've been spending your Saturday nights with Clone Club for the past three years.
Sarah, reluctantly return home from her Icelandic hideout to track down an elusive and mysterious ally tied to the clone who started it all — Beth Childs. Sarah will follow Beth's footsteps into a dangerous relationship with a potent new enemy, heading in a horrifying new direction. Under constant pressure to protect the sisterhood and keep everyone safe, Sarah's old habits begin to resurface. As the close-knit sisters are pulled in disparate directions, Sarah finds herself estranged from the loving relationships that changed her for the better.
Returning this season is Jordan Gavaris as Sarah's battle-worn foster brother Felix; Maria Doyle Kennedy as Sarah and Felix's foster mother Mrs. S; Kristian Bruun as Donnie, Alison's partner-in-crime and husband; Kevin Hanchard as Art, Beth's detective partner who's torn between his job and his loyalty to the clones; Skyler Wexler as Sarah's long-suffering daughter Kira; Ari Millen as a mysterious new Castor clone, the likes of which we've never seen before; and Josh Vokey as Scott, Cosima's lab partner. Also returning this season is James Frain as Ferdinand, an intimidating "cleaner" for shadowy organization, Topside; Allison Steadman as Kendall Malone, "the original"; and Rosemary Dunsmore as Susan Duncan, Rachel's adoptive mother and one of the leading scientists of Project Leda. Joining the Orphan Black cast this season is Joel Thomas Hynes as Dizzy, an edgy, self-reliant hacker who doesn't conform to group mentality. Additional casting for the series will be announced in the coming weeks.