'Alice Through The Looking Glass' Daylight Savings Spot: Where Does The Time Go?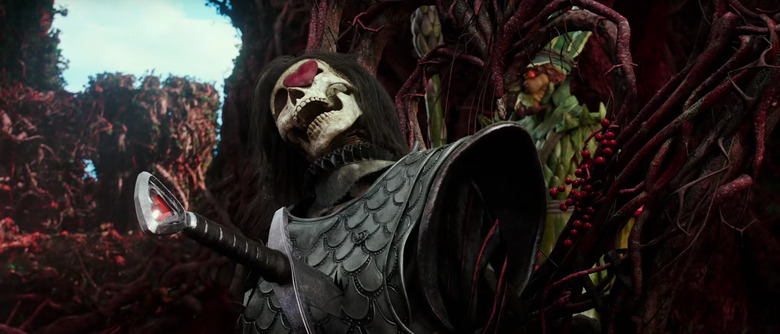 This weekend marked the start of Daylight Savings Time in the U.S., and that means the past 36 or so hours have been rough for a lot of folks. At some point in the wee hours of Sunday morning, an hour simply vanished into thin air, leaving us with one less hour to sleep, or work, or spend time with our families, or binge-watch House of Cards, or whatever else we'd normally do with that time.
Now a new Alice Through the Looking Glass spot wonders where that time went, and suggests Sacha Baron Cohen, as the embodiment of Time itself, might have had something to do with its disappearance. Check out the newest footage from the James Bobin-directed fantasy adventure below. 
Alice Through the Looking Glass timed its promotional campaign to coincide with the start of Daylight Savings Time last fall, so of course they weren't going to let another time jump just slip by unnoticed. The real answer to "where did the time go?" is "to November 6, the end of Daylight Savings Time," but it's more fun to assume the former Borat is somehow to blame for our sleep-deprived states today.
Oh, and speaking of Baron Cohen, let's hope for his sake that Alice Through the Looking Glass is a hit. His spy spoof The Brothers Grimsby bombed hard this weekend, but a sequel to one of Disney's biggest live-action hits seems like a surer bet.
Alice Through the Looking Glass opens May 27.
In Disney's "Alice Through the Looking Glass," an all-new spectacular adventure featuring the unforgettable characters from Lewis Carroll's beloved stories, Alice returns to the whimsical world of Underland and travels back in time to save the Mad Hatter. Directed by James Bobin, who brings his own unique vision to the spectacular world Tim Burton created on screen in 2010 with "Alice in Wonderland," the film is written by Linda Woolverton based on characters created by Lewis Carroll and produced by Joe Roth, Suzanne Todd and Jennifer Todd and Tim Burton with John G. Scotti serving as executive producer. "Alice Through the Looking Glass" reunites the all-star cast from the worldwide blockbuster phenomenon, including: Johnny Depp, Anne Hathaway, Mia Wasikowska and Helena Bonham Carter along with the voices of Alan Rickman, Stephen Fry, Michael Sheen and Timothy Spall. We are also introduced to several new characters: Zanik Hightopp (Rhys Ifans), the Mad Hatter's father and Time himself (Sacha Baron Cohen), a peculiar creature who is part human, part clock.
Alice Kingsleigh (Wasikowska) has spent the past few years following in her father's footsteps and sailing the high seas. Upon her return to London, she comes across a magical looking glass and returns to the fantastical realm of Underland and her friends the White Rabbit (Sheen), Absolem (Rickman), the Cheshire Cat (Fry) and the Mad Hatter (Depp), who is not himself. The Hatter has lost his Muchness, so Mirana (Hathaway) sends Alice on a quest to borrow the Chronosphere, a metallic globe inside the chamber of the Grand Clock which powers all time. Returning to the past, she comes across friends – and enemies – at different points in their lives, and embarks on a perilous race to save the Hatter before time runs out.