POTD: John Boyega Visits A Children's Hospital As Finn From 'Star Wars: The Force Awakens'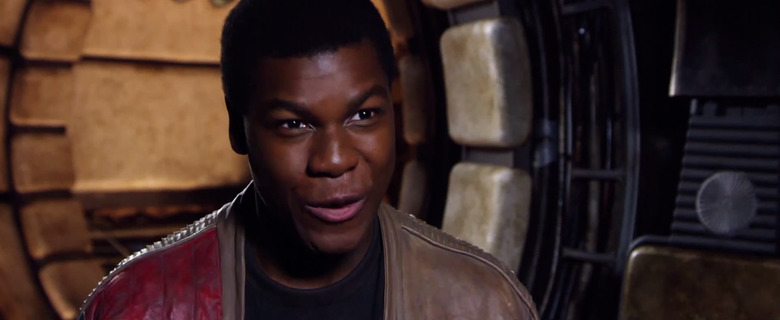 The entire world is now familiar with John Boyega as one of the new heroes of Star Wars: The Force Awakens, and now he's a hero in real life as well.
This past weekend, the Attack the Block star stopped by the Royal London Hospital to pay a visit to some sick children on behalf of the Rays of Sunshine charity program. A five-year old boy named Daniel Bell, who has been diagnosed with a brain tumor, made a wish through the program to meet Finn, the character Boyega plays in The Force Awakens. But the little boy didn't want to keep Finn all to himself. Instead he wished that they could hand out toys to some of the other kids in the hospital together.
Thankfully, some photos were snapped during this adorable visit, and a lightsaber battle definitely ensued. See what happens when John Boyega visits a children's hospital after the jump.
John Boyega posted this collection of shots to his Instagram page (via People):
This little stormtrooper Daniel had a wonderful wish after seeing the force awakens. Daniel currently lives with a brain tumour and rather than having Finn to himself he wanted Finn to meet the kids at the Royal London hospital and give them some toys. I stayed in character while I was with this brave boy asking him what a car was. He taught Finn about everything earth related! Really thankful for the opportunity this child granted me and I'm just humbled! I hope I played a little part in making you smile young stormtrooper. ??????
A photo posted by @john_boyega on
You can also see another shot of Finn walking with a little girl named Layla dressed as Rey. Since Boyega stayed in character as Finn, they had a fun little exchange that Boyega wrote on Instagram:
Layla: Finn where's Rey?

Finn: I don't know, I got beat by Kylo and I can't remember anything .
Layla: Okay I'll be your Rey today. Okay?
Finn: Okay! Lead the way.
Man, that John Boyega is the best. He told The Belfast Telegraph, "When I heard about Daniel's wish to meet Finn, I jumped at the chance to make it come true. It was fantastic to be a part of his very special wish with Rays of Sunshine. It was also great to meet the children at The Royal London Hospital and be a part of something so positive."
It's always nice seeing moments like this for kids who really need some cheering up. If you want to keep the positive vibes going on this Monday morning, check out Chris Pratt visiting a children's hospital last year, recreating one of the iconic Jurassic World moments. Or watch Johnny Depp appear as Jack Sparrow to cheer up some sick kids in Australia over here.