'Popstar: Never Stop Never Stopping' Green-Band Trailer: It Takes A Village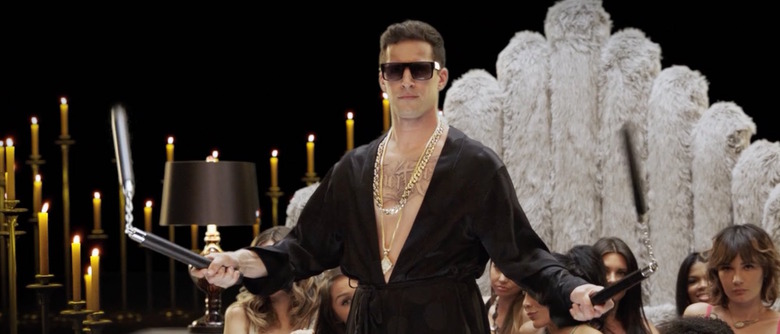 Andy Samberg's big-screen career has been, frankly, hit or miss, but the first red-band trailer for Popstar: Never Stop Never Stopping suggested this one would land firmly in the "win" column. The film sees Samberg and his Lonely Island buddies doing what they do best: sending up pop music in all its ridiculous glory. Directed by Jorma Taccone and Akiva Schaffer and written by all three, Popstar centers on a singer/rapper called Conner4real who faces a long downhill slide when his sophomore album flops.
The new green-band trailer is worth watching even if you're adult enough to have already seen the red-band one, as it's packed with a ton of new gags and cameos. Check out the Popstar: Never Stop Never Stopping trailer after the jump.
Popstar: Never Stop Never Stopping looks plenty funny, delighting in music-biz stereotypes and packing in comedy all-stars and celebrity cameos a la Zoolander. (I think my favorite supporting character might be Taccone as the Ryan Lewis to Samberg's Macklemore.) But it's worth pointing out how spot-on it sounds, too. The Lonely Island has perfected the art of writing parody tunes that could be mistaken for the real thing, so long as you don't think too hard about lyrics like "in a way, being gracious is my weakness / people say I'm so unpretentious for a genius." Although really, even a line like that wouldn't be out of the realm of possibility for, say, a Kanye album.
Popstar: Never Stop Never Stopping opens June 3.
Universal Pictures' Popstar: Never Stop Never Stopping is headlined by musical digital-shorts superstars Andy Samberg, Akiva Schaffer and Jorma Taccone, collectively known as The Lonely Island. The comedy goes behind the scenes as singer/rapper Conner4Real (Samberg) faces a crisis of popularity after his sophomore album flops, leaving his fans, sycophants and rivals all wondering what to do when he's no longer the dopest star of all.
The latest comedy from blockbuster producer Judd Apatow (Trainwreck, Superbad, Knocked Up) co-stars Sarah Silverman, Tim Meadows and Maya Rudolph and many of the biggest names in comedy and music in cameo performances. Co-directed by Schaffer and Taccone and written by The Lonely Island trio, Popstar is also produced by Rodney Rothman (producer of Get Him to the Greek, Forgetting Sarah Marshall; co-writer of 22 Jump Street), as well as Samberg, Schaffer and Taccone.