'Scream Queens' Producer Promises Gruesome Medical Cases, Return Of The Chanels [PaleyFest]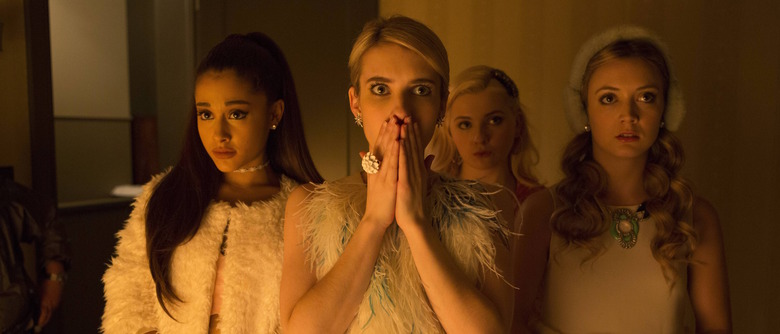 On the red carpet at PaleyFest, we got to speak with Scream Queens producer Brad Falchuk before his panel with the cast. Season two of Scream Queens will move from the sorority house to a hospital, but any of the returning cast are reprising their roles as the same characters. It's not like American Horror Story, where the cast plays new characters every year.
"I describe it more as a horror movie sequel as opposed to an anthology," Falchuk told /Film. "So you have the first Friday the 13th, the second Friday the 13th, or Halloween. You have characters that bleed in through, literally bleed through, and they go through different horrible adventures. As opposed to just changing up the characters. We just have more to say with these characters." 
That could be bad news for the actors whose characters were killed in season one. If it were American Horror Story they could just return as a new character, but Falchuk doesn't think that would work for Scream Queens.
"That, I think, would be weird," Falchuk said about. "You never know. Never say never but there's no plan for that."
A hospital opens up the realms of horror. I asked Falchuk if season two would address body horror but he indicated they weren't as interested in Cronenbergian themes. Scream Queens is far more direct and graphic than that.
"It's going to be the same tone," Falchuk said. "It will be very, very gruesome cases that will be in there. There will be a procedural aspect to it so there will be a lot of weird, gross patients that come in. So there'll definitely be a lot of that."
SPOILERS for Scream Queens season one ahead.
Season one ended with many of the main characters sentenced to a mental institution. Falchuk teased that the Chanels could end up in the hospital of season two. "They certainly could," Falchuk said. "They probably will."
The sorority setting of season one allowed Scream Queens to not only address horror movie tropes of sorority slasher movies, but comment on society. The hospital setting will have social commentary too.
"Absolutely and it's sort of the same thing," Falchuk said. "It's slightly different. It's a little more mature but it's going to be hitting all the same kinds of themes. The tone has to be the same in terms of having a message."
If they want to get really political, they could address the complicated problems with America's medical system. "We can address that, we just have to do it in our way," Falchuk said. "The way that there is cruelty, the way that there is injustice, the same way we addressed the sorority world."
Airing on Fox in prime time, Scream Queens got away with a lot of blood and gore, perhaps because it was campier in tone than Falchuck, Ryan Murphy and Ian Brennan's American Horror Story on FX. Falchuck said they have no plans to push the boundaries any further.
"I like the zone we're in I think," Falchuk said. "I think this show's not about necessarily pushing further. Other shows we've done are definitely sometimes about that, but I think we're in a good pocket when it comes to that."
During the panel, it was revealed that Dean Munsch (Jamie Lee Curtis) has moved on from college and will be running the hospital. On the red carpet, Curtis told reporters that Munsch still has an agenda.
"My guess is that whatever Cathy Munsch focuses her brain on, it will be the social commentary, whatever it is," Curtis said. "Doesn't have to be the ridiculousness of the Greek system. I think there's a lot of ridiculousness in the world that Cathy Munsch would try to fix."
The panel also revealed that Niecy Nash's character, officer Denise Hemphill, would be promoted to an FBI agent investigating a new murder. That was the first Nash heard about it. On the red carpet, she only heard teases, although when I suggested the hospital could hire Hemphill as a security guard, she knew it wouldn't be a demotion.
"I don't think I'm a security guard in the hospital," Nash said. "I heard that my character got a little job upgrade. Now I don't know as what but I don't think she's a security guard."
For some of the actors who played sorority sisters, they expect the institutionalization won't help the Chanels. Perhaps at least season two can give their characters another sort of catharsis.
"I hope that she gets a little bit of revenge on everybody who was so mean to her in season one because they were so mean to her," Abigail Breslin said.
Billie Lourd wants to embrace the medical subgenre. "I hope she gets to say some crazy medical terms super fast," Lourd said.
***
Scream Queens returns this fall on Fox.
RT to welcome the returning #ScreamQueens cast! #PaleyFest pic.twitter.com/P75H7ULrJ2

— Scream Queens (@ScreamQueens) March 13, 2016