A 'Breaking Bad' Character Returns On This Week's 'Better Call Saul' [PaleyFest]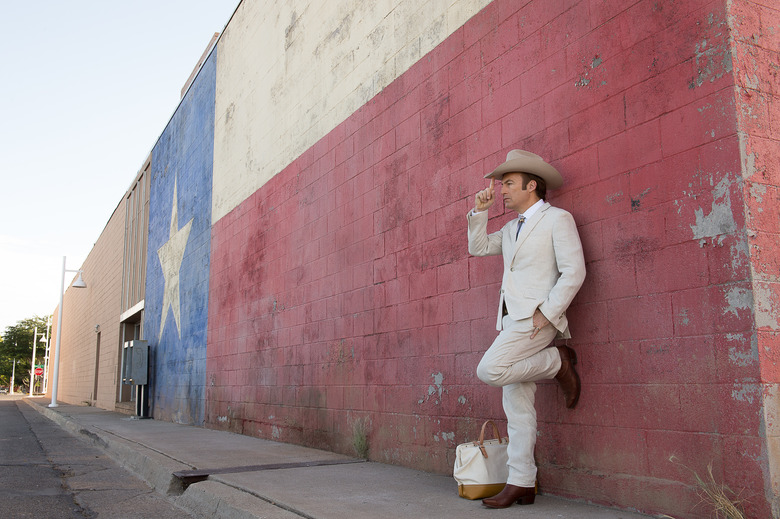 At the Paley Center For Media's annual Paleyfest event, Better Call Saul screened Monday night's episode two days early for their Saturday panel. The climax of the episode featured a recognizable Breaking Bad character. We won't spoil whom, but the prequel series has been judicious about who they've reintroduced. Nacho (Michael Mando) has been in a recurring role, and Kyle Bornheimer recently appeared as Ken Win. Series creators Vince Gilligan and Peter Gould spoke about this week's big Easter egg. Even that is a possible spoiler if you figure out who could be connected to last week's big cameo appearance.
"Probably right when we were breaking this episode," Gould said. "I think we thought, Tuco's in trouble. Who is he going to call?" 
As much as Gould and Gilligan like bringing Breaking Bad characters back, they are careful not to overdo it. "We love all these characters and actors from the Breaking Bad universe," Gilligan said. "We were so blessed on that show, just as we are on this show, who we want to spend time with. The difficulty is to not overdo it. The difficulty is to maintain a certain level of self discipline so we don't appear willy nilly and say, 'Let's have this person walk through the background. Let's have this person get splashed with mud as Jimmy drives by.' It's an old Faulkner thing, sometimes you gotta kill your darlings."
At the end of the panel, Gilligan revealed an upcoming example where they nixed a cameo. Perhaps we can figure out who it might have been when we see the episode in question.
"We had an idea for the final episode of this season," Gilligan said. "It was a really perfect opportunity for a cameo that we didn't wind up doing, and you can figure out what I'm talking about when you see the final episode of this season. We had a perfect opportunity, a very organic and logical opportunity for someone from our Breaking Bad universe to show up in the final episode of this season. We didn't do it and I got talked out of it because I really wanted to do it, and I'm glad I got talked out of it because as Peter and the writers told me, it would've been distracting. It would have distracted from a very important thing that was going on."
There is one upcoming scene that was actually filmed for season one and deleted. They found a place for it in a future episode. "There is a scene, this is the first time this has happened, there is quite a wonderful sequence that we shot in season one that we didn't use," Gould said. "A sequence actually written and directed by Mr. [Thomas] Schnauz. We did bank it. You'll see it in a couple of weeks."
This week's episode, "Rebecca," reveals more about Jimmy McGill (Bob Odenkirk) and Chuck (Michael McKean)'s sibling relationship. The episode opens with a flashback of Jimmy visiting Chuck and his wife Rebecca for dinner, prior to Chuck's affliction with an allergy to electricity. We know that in the present day of the show, Chuck is alone with only Jimmy to accommodate his special needs, but Gilligan and Gould haven't entirely decided how Rebecca exited the picture.
"We did this on Breaking Bad as well," Gilligan said. "We give ourselves outs as often as we can. It looks like, especially on Breaking Bad, it looks like we enjoyed painting ourselves into corners and we kind of do, but we always kind of give ourselves outs. Suffice it to say, it's important to us to know that she's no longer around, Rebecca. If you held a gun to our heads, we're not sure we could tell you exactly why she's not, but we know that she's not. We like to leave ourselves room to maneuver in the writers room."
Gould added, "For me, it's also a little bit of understanding Chuck just a tiny bit because here's a man who obviously there was a real relationship there. When you see these two together, you see that there's a real marriage there and he's lost that."
McKean gets to give a great speech about how Jimmy used to work for their father's business, and Chuck blames Jimmy for some of what went wrong. "I think it's fun that people don't know whether I'm telling the absolute truth or not," McKean said. "I think I probably am. Actually, there are two different thumbnail sketches of Jimmy in the show. There's one we're seeing with our own eyes at the dinner table at the beginning and there's one in this anecdote, this story that is kind of a cautionary tale. Now I might have my own reasons for this version and I might be calling it one way or another but it was very interesting. I never asked you whether or not it was true.'
Gilligan is willing to commit to the veracity of Chuck's story. "I think it's true to him," Gilligan said. "I don't think it's a stretch to say that the story he's telling is a cautionary tale that he believes. Whether or not it's strictly true we may glean from later episodes. We may not."
The story comes up in a scene between Chuck and Kim (Rhea Seehorn). Stuck in the dank "document review" office by Howard (Patrick Fabian), Kim asks Chuck if there's a future for her at Hamlin, Hamlin and McGill. Chuck blames Jimmy for getting Kim into this mess.
"What she was really coming to ask is, can you please tell me if I have a place and career here and a chance to be judged by meritocracy instead of being a pawn, and this is the answer I get," Seehorn said. "So there's a lot of stuff going on with her there. I didn't ask them if it's true or not because they wouldn't answer me. I thought the most important thing was that everyone is living by their own version of their truth. She believes in that moment that this is what Chuck believes is the truth. I think Kim has probably heard versions of the story that are told through Jimmy's point of view. She doesn't know what the truth is but the point is that people are developing their lies and shaping their morals and ethics and who they are based on these truths. Memory is not fact. Feelings aren't fact and they're basing them on this. It was important to me to not be complicit in throwing Jimmy under the bus. I wouldn't do it. Even if she thought it was 100% true, I will not do that."
Kim is a new love interest to Jimmy for Breaking Bad fans, who didn't see his love life on the previous show. Some are assuming they break up before the end of Better Call Saul, or even drastically that Kim will die. Rumors of her death have been greatly exaggerated.
"Just because we never saw her on Breaking Bad doesn't mean she doesn't exist," Gilligan said.
Seahorn has an even more practical explanation for why we never saw her on Breaking Bad. "Even if she existed and in Breaking Bad, if she was in Jimmy's life and important to him, would he bring her up to Heisenberg?" She said. "I think all possibilities are open and I refuse to hear otherwise."
The timeline for Better Call Saul remains flexible. Gilligan and Gould may prolong Jimmy McGill's transformation into Saul for their own personal reasons?
"We don't want to see Jimmy McGill turn into Saul Goodman, me, the writers, all of us, because we like Jimmy better," Gilligan said. "We like Jimmy better than Saul from five seasons of Breaking Bad counting the seasons he was a part of, but you want to be organic in your storytelling. You don't want to get inorganic. One factor that leads you down the garden path of inorganic-ness so to speak is we really like this character. We want to stick with him as long as possible. That in itself is inorganic storytelling, so we don't have an answer how long it's going to go and how long it's going to take. We just know that we want to step through the minefield as it were as delicately as possible to tell the story as close to perfectly as we can and not miss any beats, not miss any tricks, not leave any good stuff on the table."
***
Better Call Saul airs Mondays at 10PM on AMC.