The Best & Worst Sketches From Ariana Grande's 'Saturday Night Live'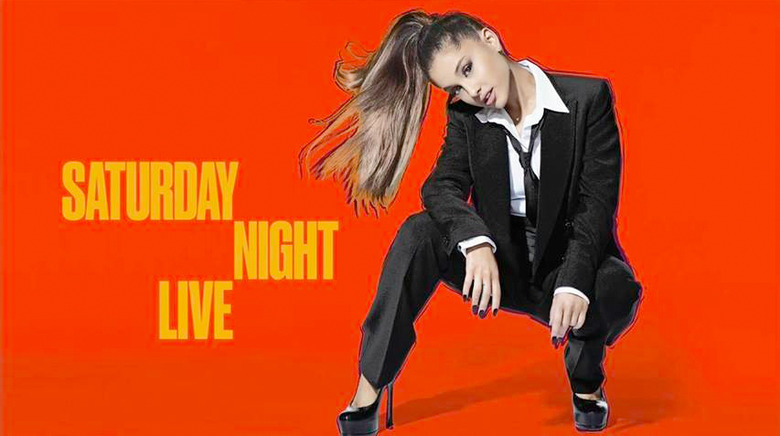 Last night brought chart-topping singer Ariana Grande to Studio 8H again, but this was the first time she pulled double duty as both Saturday Night Live host and musical guest. Adults may not be too familiar with the singer's acting career, but she found fame with kids on the Nickelodeon show Victorious. Since she shares a career launch similar to that of Kenan Thompson, it made for a fun moment during the monologue, but beyond that Grande actually proved to be quite the energetic, fun and vibrant host, and she does some pretty killer impressions as well.
We run through the best and worth sketches from the Ariana Grande Saturday Night Live episode after the jump.
The Best
Hillary Campaign Ad – Following last week's political ad for Donald Trump's campaign, SNL has delivered another great one with Hillary Clinton getting really desperate to win the presidency by slowly turning into Bernie Sanders. You know, if Larry David wasn't already a perfect Bernie Sanders, Kate McKinnon would be my pick to play him.
This Is Not a Feminist Song – If all goes well, the same people who laugh at this sketch are the ones who gave a reason for it to exist in the first place. For all the good that feminism does, there's an ugly sect that just can't be happy with some of the efforts put forth by other feminists, and this sketch pokes fun at those who are making it harder for any real progress or initiatives to gain any traction. Nicely done.
Mermaids – Anyone else want to watch a remake of The Little Mermaid with this Kate McKinnon blod fish mermaid in place of Ariel? Sure, that's essentially what this sketch is, but I could watch McKinnon gross out Beck Bennett in that weird facial prosthetic all day long. The slime on her face really added something special. But I will say it's a shame that Ariana Grande didn't have much to do here.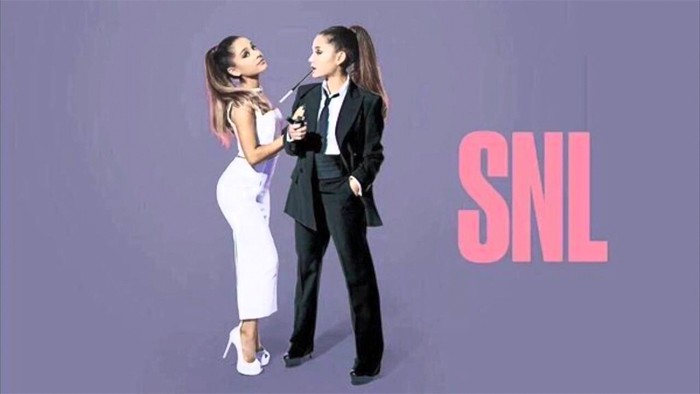 The Average
Tidal – This is a retread of a sketch from 2012 that featured Bruno Mars having to step in and fill in for various artists when Pandora went down. Oh, how times have changed with Tidal being used for this sketch concept instead. Ariana Grande really impressed me with her Britney Spears and Shakira impressions, but I feel like they should have been saved for last, because the ones that followed weren't the best, and merely presented a showcase for Grande to illustrate how powerful her voice is.
Carson Endorsement – Whenever Larry David pops up as Bernie Sanders, it elevates the timely political satire. And if there are still any conservatives out there who watch SNL, they would have been happy to see Bernie Sanders actually take some hits in this sketch, even moreso than Donald Trump or Ben Carson (aka the part of the sketch that wasn't that funny). From the crack about abundant Facebook posts to not having any idea how to implement some of the initiatives that Bernie is promising, this is one of those sketches that shows SNL doesn't mind taking cracks at the liberal side of the aisle eithe.
Sound of Music – Ariana Grande did a lot of singing and looking pretty throughout this episode, and while she does the former in this sketch, she also got to show some attitude and prove that she should've been allowed to do a bit more. As Maria in The Sound of Music, she doesn't like that one song the nuns sing about her (you know the one) and takes them to task for being so catty. It's an amusing sketch, but the concept is a little too simple for it to really take off.
The Worst
Celebrity Family Feud – I'm a big fan of sketches that showcase celebrity impressions, and while there are certainly some good ones to be found, there are some bad ones too. Ariana Grande's take on Jennifer Lawrence was particularly great, and John Rudnitsky got his moment in the spotlight as a solid Martin Scorsese, but Taran Killam's Quentin Tarantino didn't work for me and Kyle Mooney's Woody Allen was a dud too. But the real problem was that this just wasn't a good edition of Celebrity Family Feud as far as the writing is concerned.
Kids Choice Awards – Wow, this sketch went on for far too long, to the point that the gag of the Kids Choice Awards wasn't funny beyond the first two minutes. It's the same joke over and over for four minutes, and it's not anywhere near as funny as the real awkwardness ensued when Bow Wow had to kill time at the end of the Grammys pre-show a few weeks and kept thinking the show was starting, only to have to kill more time. Watch that much funnier, real life occurrence right here.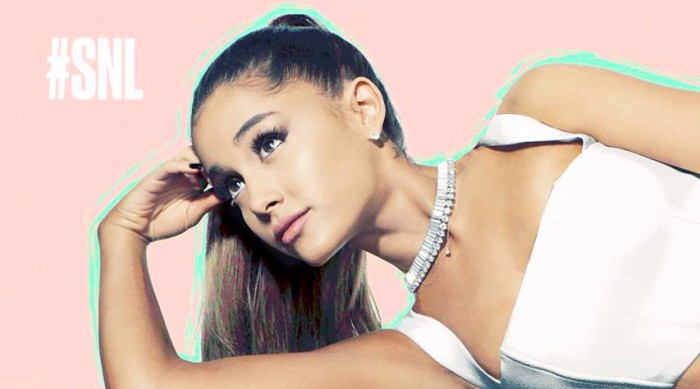 Weekend Update
This edition of Weekend Update really felt like a triumph for Michael Che more than Colin Jost, but they both did a solid job this week. Jost had a good reaction after Che delivered his hilarious Women's History Month joke while Che's interaction with Riblet was probably my favorite part of the segment. But we'll get to that a bit later. All in all, a decent edition of Weekend Update, but again, still needs more Jost and Che interaction and chemistry.
The Drunkest Contestant On the Bachelor – This character felt a little too close to The Girl at a Party You Wish You Hadn't Started a Conversation With, but it was nowhere near as funny. You don't have to watch The Bachelor to get the joke, but the joke just isn't that good to begin with. However, Cecily Strong's creepy smile and Jost's line about Leslie Jones killing them were two moments that made me laugh.
Riblet's New Moves – Riblet has slowly become one of my favorite recurring characters that Bobby Moynihan does. I love that he has it out for Michael Che for no good reason, and his long way to go for a joke at Che's Mom's expense was hilarious.
The Host
Though she's know for being a chart-topping pop star now, Ariana Grande got her start on the Nickelodeon comedy series Victorious. But transferring to Saturday Night Live with only limited acting experience in more adult-centric entertainment still could have provided a challenge for the star. But Grande seemed to be very comfortable for her first time hosting. She had some cue card awkwardness, but she brought some outstanding energy and really threw herself into each sketch. My only issue is that I wish they gave her some real characters to play as opposed to just having her sing and do impressions.
The MVP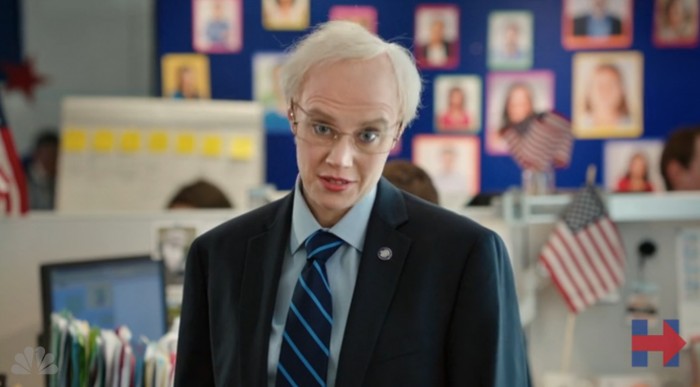 Kate McKinnon – What can I say? Kate McKinnon just knocked it out of the park this week. From her awesome Bernie Sanders impression to her gross mermaid, and even her creepy Tilda Swinton, she just owned the night. If Ariana Grande had been allowed to do a bit more, she might have taken the win this week, but McKinnon is a force to be reckoned with in almost every episode.
The Final Word
Following last week's severely disappointing episode with Jonah Hill, this was a good step back towards some quality sketch comedy. Ariana Grande made for a thoroughly entertaining host who really showed off some solid comedic chops, and Larry David's cameo this week was just what SNL's political satire needed to get some decent laughs. Between that and the Hillary Clinton political ad, maybe the writers are finally starting to find their footing. Or maybe Larry David is just that good.
We'll be back with another episode recap after Peter Dinklage hosts Saturday Night Live on April 2nd.