Paramount Pictures Pulls 'The Little Prince' One Week Before Release In The US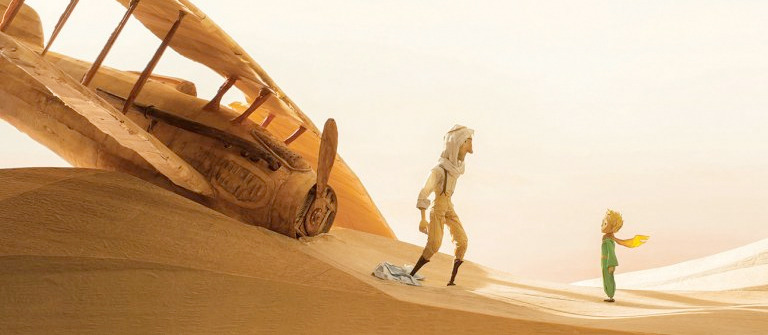 One week before the animated film was slated to hit theaters in the United States, Paramount Pictures has pulled The Little Prince from its schedule release date of March 18th, 2016. The film has been waiting to hit theaters in the US since debuting at the Cannes Film Festival last year and hitting various international markets afterwards. It's already grossed $80 million overseas, but now it will have to wait a bit longer for a debut in the United States. However, the good news is that it sounds like we'll still see the movie this year. Find out more about The Little Prince release date after the jump.
THR has the report on Paramount Pictures nixing their US release for The Little Prince, saying that the studio hadn't determined whether the film was going to get a limited or nationwide release, but the studio hasn't officially provided an explanation for pulling the movie from their calendar. However, director Mark Osborne (co-director of Kung Fu Panda) confirmed the news on Twitter:
1/3 Many thanks to everyone for the outpouring of love and support in these strange times.

— Mark Osborne (@happyproduct) March 12, 2016
2/3 – As it turns out, the much anticipated U.S. release of this special and unique film will have to be anticipated just a little bit more.

— Mark Osborne (@happyproduct) March 12, 2016
3/3 – All I can say is #thelittleprince will in fact be released by another distributor later this year.

— Mark Osborne (@happyproduct) March 12, 2016
4/4 – Until then, head to Canada! The film opens there in wide release this weekend!

— Mark Osborne (@happyproduct) March 12, 2016
So even though audiences in the US anxious to see The Little Prince get its first big screen adaptation will have to wait an undetermined amount of time before being able to see the movie, at least they'll get to see it sometime this year. There's no word on who is picking up the movie from Paramount, but hopefully they'll give it the release that it deserves. This is a movie that just won France's Cesar Award for best animated film last month, so it simply demands to be seen. Here's a trailer if you haven't seen it yet:
With a voice cast that includes Jeff Bridges, Rachel McAdams, Paul Rudd, Ricky Gervais, James Franco, Mackenzie Foy and Benicio Del Toro, this shouldn't be a hard sell to American audiences. And this is a classic story that many consider to be a masterpiece of writing from Antoine de Saint.  If you want to know more, here's the official synopsis:
Rediscover one of the most beloved stories of all time. From Mark Osborne, Academy Award® nominated director of Kung Fu Panda, comes the first–?ever animated feature film adaptation of Antoine de Saint–?Exupéry's iconic masterpiece, The Little Prince. At the heart of it all is The Little Girl (Mackenzie Foy), who's being prepared by her mother (Rachel McAdams) for the very grown–?up world in which they live – only to be interrupted by her eccentric, kind–?hearted neighbor, The Aviator (Jeff Bridges). The Aviator introduces his new friend to an extraordinary world where anything is possible. A world that he himself was initiated into long ago by The Little Prince (newcomer Riley Osborne). It's here that The Little Girl's magical and emotional journey into her own imagination – and into the universe of The Little Prince – begins. And it's where The Little Girl rediscovers her childhood and learns that ultimately, it's human connections that matter most, and that what's truly essential can only be seen with the heart.
Stay tuned to see when The Little Prince will get release in the United States.