Kevin Smith Rips Into 'Ghostbusters' Reboot Trailer, But Doesn't Denounce The Movie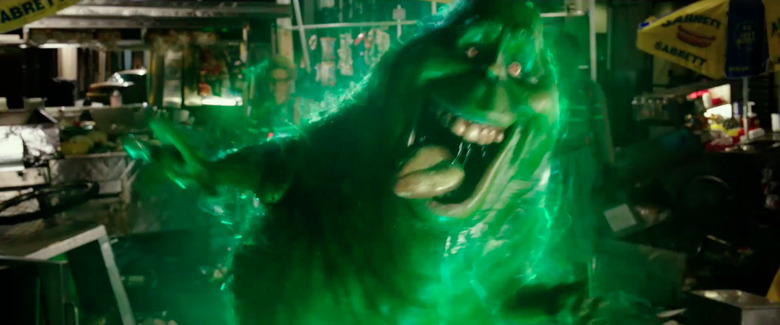 Even though the international Ghostbusters trailer that hit the web this week was much better than the initial teaser trailer that debuted the previous week, some hopeful fans still have a bad taste in their mouth. As someone who is still hoping for the best from director Paul Feig, even though I firmly think this should be more of a sequel than a hard reboot, I can't deny that the first trailer was pretty poorly cut. And it seems filmmaker Kevin Smith think so too.
While speaking on his Hollywood Babble-On podcast with fellow co-host and occasional actor Ralph Garmin, Smith had some harsh words for the Ghostbusters trailer. However, he was very specific in his comments by criticizing the trailer rather than denouncing the movie itself. Find out about Kevin Smith's Ghostbusters trailer reaction after the jump.
Here's the specific clip from Hollywood Babble-On about the Ghostbusters trailer:
If you can't listen, here's the pertinent bit from Kevin Smith:
"Whoever cut this trailer needs to be sat down, and I'm not going to call for their job to be taken away from them but they need to be scolded. It could've been all men with the same jokes, and it still would have sucked. The trailer's not strong, and that doesn't mean the movie's gonna blow, like again the f***ing pedigree of this movie is undeniable. There's no way all these people involved don't make a f***ing funny, at least watchable fun movie."
However, even though Smith's criticism is directed towards the trailer, he does throw some shade on the comedy on display, specifically the "That's gonna leave a mark" line from Melissa McCarthy after she gets the ghost slapped out of her by Leslie Jones. Garmin expresses his distaste, mostly because it's an overdone bit. The two also think the bit with Kate McKinnon in a wig hiding in a line of mannequins is pretty lame, described as a gag that you might see on Scooby-Doo.
Even though it's hard to argue with some of the criticism out there based on the trailer, I didn't find the trailer to be absolutely abysmal. But the comedy certainly needs a better presentation. The international trailer gave us a better taste, but it's going to take some convincing to get some fans on board.
And I'm sorry, but while I love Kevin Smith's older work, there's something that doesn't sit well with me when it comes to Smith offering comedy critiques after seeing what he thought was funny in Yoga Hosers. That film is an absolute bonkers mess, and not in a good way. So while he may have some valid points to make, I can't help but think that he needs to take a second glance at some of his more recent work before throwing shade on other flicks.
Like Smith says in the clip, maybe the movie hasn't done any test screenings yet, so they haven't figured out what jokes actually work with audiences to make a satisfying tease. Here's hoping that they cut something a bit better for the second trailer.