'The Angry Birds Movie' Has The Delightfully Cute Hatchlings Explain The Easter Bunny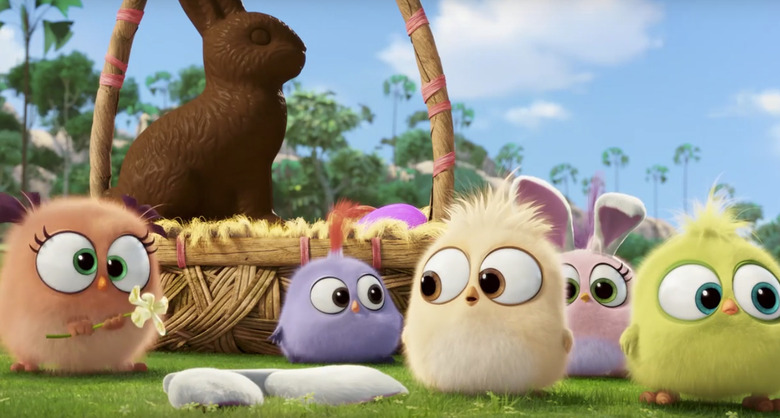 Even though Easter weekend is still a couple weeks away, The Angry Birds Movie is getting a head start by getting their holiday greeting out there. After all, birds have become a part of the Easter holiday, along with rabbits, for no good reason at all. The good news is that even though this is just a shameless plug for the animated adaptation of the mobile game franchise, it's done in an extremely adorable way, thanks to the tiny hatchlings explaining what the Easter Bunny does for the holiday. Seriously, they're almost unbearably cute.
Here's The Angry Birds Movie Easter greeting from Sony Pictures:
I don't know if those are really little kids providing the voices for the hatchlings (who were introduced around Christmas last year) or if they're just brought to life by really great voice actors, but they're just adorable. The expressions on their face, the way they waddle around and those tufts of hair on top just make me want to have hatchlings of my own. But I just have to keep reminding myself that birds don't talk unless I've had enough whiskey.
Between the last trailer for The Angry Birds Movie and this cute, timely promo, I think this could turn out to be rather enjoyable. The bad news is that even once Easter rolls around, we'll still have about two months to wait before we see it in theaters. In fact, by the time we see The Angry Birds Movie, a few weeks will have passed since Captain America: Civil War hit theaters. And The Angry Birds also wanted to take advantage of that for a little promo too: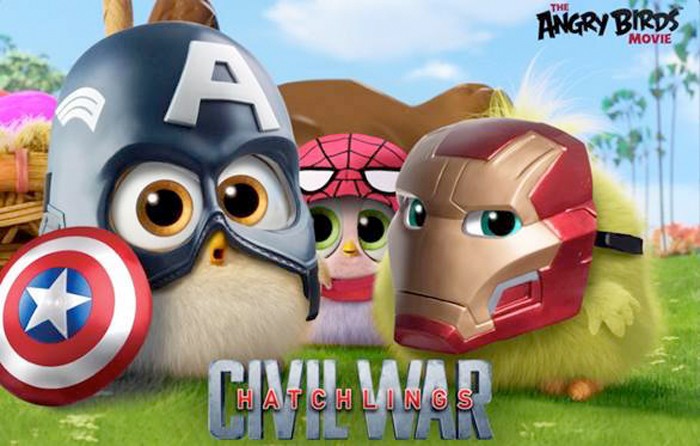 Jason Sudeikis leads the film with a supporting class that includes Bill Hader, Danny McBride, Maya Rudolph, Kate McKinnon, Tony Hale, Keegan-Michael Key, Ike Barinholtz and Peter Dinklage.
In the 3D animated comedy, "The Angry Birds Movie," we'll finally find out why the birds are so angry. The movie takes us to an island populated entirely by happy, flightless birds – or almost entirely.  In this paradise, Red (Jason Sudeikis, "We're the Millers," "Horrible Bosses"), a bird with a temper problem, speedy Chuck (Josh Gad in his first animated role since "Frozen"), and the volatile Bomb (Danny McBride, "This is the End," "Eastbound and Down") have always been outsiders. But when the island is visited by mysterious green piggies, it's up to these unlikely outcasts to figure out what the pigs are up to.
The Angry Birds Movie arrives on May 20.