Marvel And Netflix's 'Luke Cage' Premiere Date Announced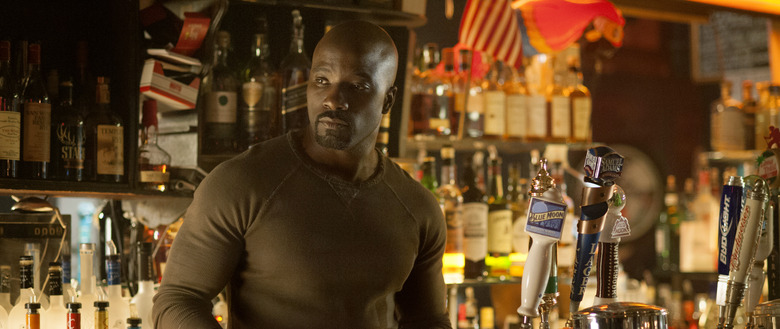 If you're like us, you're already planning to spend next weekend in New York's Hell's Kitchen — or rather, the Marvel Cinematic Universe's grim and gritty version of New York's Hell's Kitchen – as Daredevil returns for its second season on Netflix. But also if you're like us, there's a pretty good chance you'll finish the whole thing in one go, and that Sunday night will find you blearily demanding to know when you can expect your next Netflix-Marvel fix.
Well, the good news is that we can tell you right now. We've long know that Luke Cage, Netflix's third MCU series, would premiere sometime this year, and now star Mike Colter has officially announced a premiere date. 
Colter spilled the beans during a red carpet interview at the premiere of Daredevil season 2. "Well, I'll just say this. It's going to be action-packed from the beginning to the very end. Trust me," he said when asked what fans could expect next from his character. "Daredevil premieres March 18 and I will see the fans on September 30. You heard it here first." (You can watch the full video here; Luke Cage talk begins at the 2:09 mark.)
Luke Cage debuted as a supporting character on the first season of Marvel and Netflix's Jessica Jones. Shooting on his own series began last year. Cheo Hodari Coker serves as the showrunner of Luke Cage. The series also stars Mahershala Ali as Cornell Stokes a.k.a. Cottonmouth, Alfre Woodard as Mariah Dillard, Simone Missick as Misty Knight, Theo Rossi as Shades, and Frank Whaley as Rafael Scarfe. Unlike Daredevil and Jessica Jones, which are based in Hell's Kitchen, Luke Cage will unfold in Harlem as the title character tries to rebuild his life.
Luke Cage is Netflix's third MCU series, following Daredevil and Jessica Jones. It'll be followed by Iron Fist, which recently cast Finn Jones in the lead, and all four superheroes will then team up for The Defenders.