The First Order Lands At SXSW 2016; See A Teaser For The First 'Star Wars: The Force Awakens' Table Read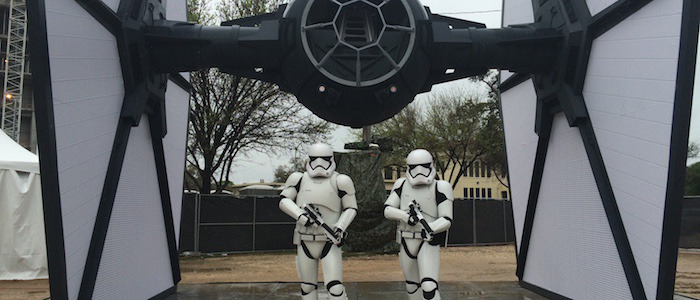 SXSW 2016 kicked off like it always does – with a rainstorm that no one was prepared to deal with. But neither rain nor shine can stop the reach of the evil First Order, whose steely grip has officially reached the planet Earth. Namely, Austin, Texas.
Okay, so the life-size TIE Fighter parked in the empty lot near a bunch of delicious food trucks was just a replica and the two Stormtroopers guarding it were just performers hired to help drill the release date of the Blu-ray and DVD for Star Wars: The Force Awakens into everyone's heads. But as far as advertising gimmicks go, letting you get up and close with this stuff as pretty top notch. You can check out photos from this event, as well as a teaser for one of the the home release's most interesting special features, below.
First up, here's a new teaser for one of The Force Awakens' most intriguing bonus features: an in-depth look at the table ready the united the entire cast for the first time. You surely remember that instantly iconic black and white photo. You know, the one that everyone obsessed over for weeks as fans tried to figure out a reason for why everyone was sitting where they were. Anyway, this feature should prove fascinating, giving us a chance to see how the story, characters and performances evolved from this earliest performance to to final film.
But come on, you're really here to check out some images of life-size TIE Fighter, right? You can peruse those in the gallery below. If you're attending SXSW, you can go check this out for yourself by visiting South Bites on Caesar Chavez street, right across the street from the convention center. You can have your picture taken with the Stormtroopers, collect a free poster, and enter a contest to win a Sphero BB-8 toy.
Meanwhile, the feature-length documentary Secrets of The Force Awakens: A Cinematic Journey, which will be included on the home video release, will premiere at SXSW at the Paramount theater on Monday, March 14. The Blu-ray and DVD will hit shelves on April 5, 2016.