Rian Johnson Shares 'Star Wars Episode VIII' Behind-The-Scenes Photo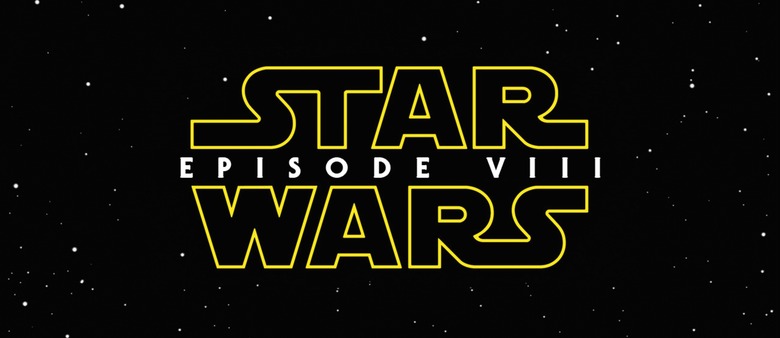 Whatever its faults or mistakes, Star Wars: The Force Awakens did exactly what it was supposed to do: it left us wanting to see more of Rey, Poe, and Finn right now. However, that means it also left us with the sinking realization that Star Wars Episode VIII is still far, far away. Director Rian Johnson is hard at work making the next installment of the Skywalker saga, but we won't actually see the fruits of his labor until December 2017.
So in the meantime, we'll take what we can get. Last month, we oohed and ahhed over our first tiny taste of the movie when Johnson dropped a production announcement teaser, and today he's shared another little tidbit from the production, in the form of a behind-the-scenes photo featuring cinematographer Steve Yedlin. 
Star Wars Episode 8 Behind the Scenes
Johnson shared the Star Wars Episode 8 behind the scenes photo on his Tumblr page.
There are no shocking revelations or juicy spoilers here, just an exciting reminder that we've got more adventures to look forward to. Yedlin seems to be standing in front of an interior set of the Millennium Falcon or a similar ship. But who's in the ship, where it's coming from, where it's going — those are all questions to be answered next year when the movie finally opens.
Star Wars: Episode VIII opens December 15, 2017. Mark Hamill, Carrie Fisher, Adam Driver, Daisy Ridley, John Boyega, Oscar Isaac, Lupita Nyong'o, Domhnall Gleeson, Anthony Daniels, Gwendoline Christie, and Andy Serkis return, and Benicio Del Toro, Laura Dern, and Kelly Marie Tran are also part of the cast this time around. The story picks up right after the events of The Force Awakens, but beyond that details are scarce.
While we wait, Rogue One: A Star Wars Story arrives December 16, 2016 to take us on a little detour to the period leading up to A New Hope, as Rebel fighters plot to steal the Death Star plans. Gareth Edwards is directing that one, and Felicity Jones stars.