'Florence Foster Jenkins' Trailer: Get Ready To Root For A Terrible Opera Singer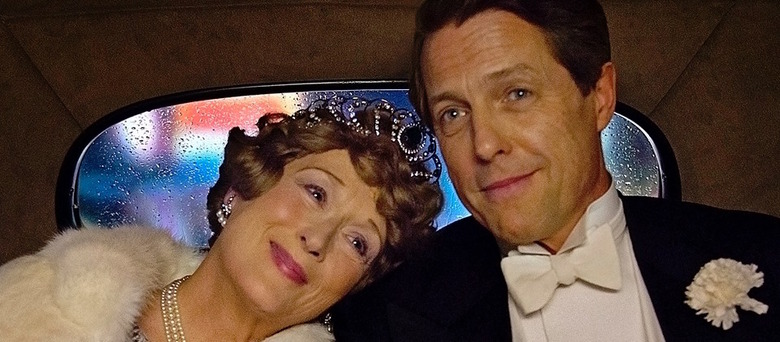 Director Stephen Frears (High Fidelity) has not one but two biopics out in theaters this year. The Program was recently released, but the Lance Armstrong biopic was a disappointment, despite a dedicated performance from Ben Foster. It's probably Frears' next film, Florence Foster Jenkins, that more people will be talking about later this year. The director's upcoming picture stars Meryl Streep, Hugh Grant, and Rebecca Ferguson.
Watch the Florence Foster Jenkins trailer below.
Streep stars in the titular role, as a New York socialite who fancies herself a singer. The problem? Florence Foster Jenkins doesn't have a particularly strong voice, but she won't let that deter her. With the assistance of those closest to her, she has to start preparing for the biggest show of her life: playing at Carnegie Hall.
Here's the Florence Foster Jenkins trailer:
Hugh Grant looks delightful as "husband and manager" St. Clair Bayfield, who lived with Jenkins for 36 years. Maybe it's because of the romantic comedies Grant has starred in over the years, but I feel like he's an actor that arguably doesn't always get his due. When he's working with good material, like About a Boy, he's excellent. And say what you will about Grant's rom-coms, but it must be said, he's generally quite charming in those films.
Florence Foster Jenkins should make for nice counter-programming this summer. While a fall release date appeared inevitable for the film, Paramount decided to release the biopic in August. That decision made sense, considering Meryl Streep has had some notable box-office hits – Julie & Julia, The Devil Wear's Prada, and Mamma Mia! – come out during the summertime.
Last summer, we saw the actress play another musician in Ricki and the Flash, an immensely enjoyable drama that, weirdly, not enough people saw in the theater. We shouldn't expect a similar box office fate for Florence Foster Jenkins, because, based on the trailer, Frears' drama looks like the kind of pleasant adult-oriented film audiences will likely flock to.
Here's the official synopsis:
The true story of Florence Foster Jenkins (Meryl Streep), the legendary New York heiress and socialite who obsessively pursued her dream of becoming a great singer. The voice she heard in her head was beautiful, but to everyone else it was hilariously awful. Her "husband" and manager, St Clair Bayfield (Hugh Grant) an aristocratic English actor, was determined to protect his beloved Florence from the truth. But when Florence decided to give a public concert at Carnegie Hall in 1944, St Clair knew he faced his greatest challenge.
Florence Foster Jenkins opens in theaters August 12th.