'Florence Foster Jenkins' Trailer: Meryl Streep Is The World's Worst Opera Singer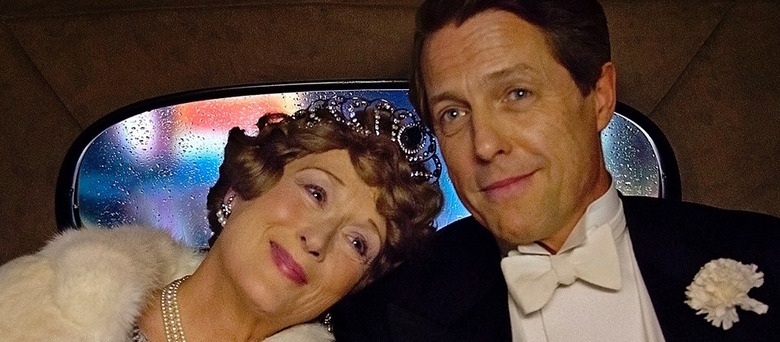 Meryl Streep can do just about anything. She's done comedy and drama, played witches and rock stars and Holocaust survivors, brought the likes of Margaret Thatcher and Julia Child to life — and for all that trouble, she's been nominated for Oscar a record 19 times (including three wins). But the one thing she can't do, in the new trailer for Florence Foster Jenkins, is sing.
To be fair, Streep herself can sing perfectly well — you can hear her in musicals like Mamma Mia! and Into the Woods. It's her character who possesses a famously abysmal voice. However, Florence Foster Jenkins isn't letting a little thing like lack of talent keep her from pursuing a career as an opera singer. Especially since, thanks to her devoted manager St. Clair Bayfield (Hugh Grant), she has no idea how bad she is. Simon Helberg, Nina Arianda, and Rebecca Ferguson also star. Watch the Florence Foster Jenkins trailer after the jump. 
Florence Foster Jenkins opens May 6 in the U.K. Paramount has not yet announced a U.S. release date. Stephen Frears directed.
Directed by Stephen Frears (Philomena, The Queen), Florence Foster Jenkins tells the inspirational true story of the eponymous New York heiress who obsessively pursued her dream of becoming a great singer. The film celebrates the human spirit, the power of music and the passion of amateurs everywhere. The voice Florence (Streep) heard in her head was divine, but to the rest of the world it was hilariously awful. At private recitals, her devoted husband and manager, St Clair Bayfield (Grant), managed to protect Florence from the truth. But when Florence decided to give her first public concert at New York's Carnegie Hall, St Clair realised he had perhaps bitten off more than he could chew.