Woody Harrelson And Sam Rockwell Are Reuniting For Martin McDonagh's 'Three Billboards Outside Ebbing, Missouri'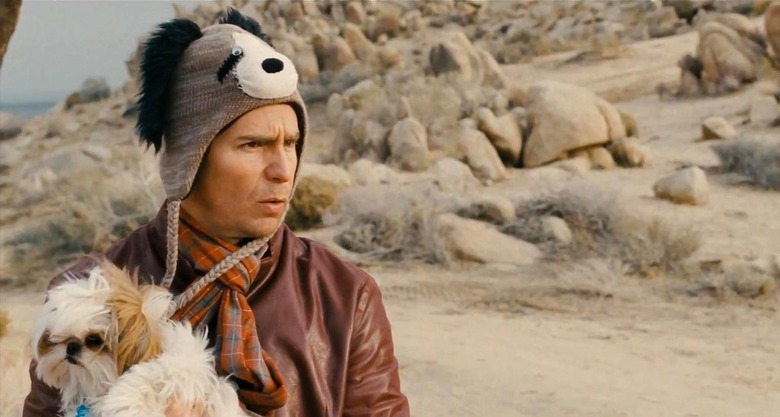 Neither In Bruges or Seven Psychopaths feature any prominent female characters — a fact screenwriter, playwright, and director Martin McDonagh is well aware of. There's a reason why in Seven Psychopaths Hans (Christopher Walken) tells Marty (Colin Farrell), a struggling screenwriter, the following: "Your women characters are awful. None of them have anything to say for themselves. And most of them get either shot or stabbed to death within five minutes. And the ones that don't probably will later on."
But while McDonagh's female characters are far from "awful," especially on the stage, it's still interesting to hear he's making his next feature about a woman. Three Billboards Outside Ebbing, Missouri stars Frances McDormand, and Seven Psychopaths stars Sam Rockwell and Woody Harrelson have just been cast to star alongside her.
Back in September, when McDonagh was promoting his newest play, Hangman, the writer-director shared some plot details regarding his third feature film. Three Billboards Outside Ebbing, Missouri is about "a 50-year-old woman (McDormand) whose daughter is murdered and she goes to war with the police in her home town, because she thinks they are more interested in torturing black people than getting justice."
Deadline reports Rockwell and Harrelson have signed to star in film, which is co-financed by Fox Searchlight and Film4. There are no details on their roles, but after Seven Psychopaths, all we really need to know is that Rockwell and Harrelson will once again deliver McDonagh's sensational dialogue.
McDonagh started to discuss Three Billboards Outside Ebbing, Missouri around the release of Seven Psychopaths. I interviewed the director back in 2012, and after discussing his two pictures, which mostly show men talking to men, I had to ask when we'd see a film of his featuring women talking to women:
[Laughs.] Honestly, my next film script is written, and it's got the strongest female lead you'll ever see. She's about 55 years old, and she's...You know, a lot of my early plays had very strong female characters, especially my first one, The Beauty Queen of Leenane, is a 40-year-old woman and her 78-year-old mother, and that can be as exciting as any "guys with guns" movies. I'm going to do one for the girls next time.
McDonagh stuck to his promise. Plus, if anyone could play "the strongest female lead you'll ever see," who better than Frances McDormand? It wouldn't be surprising if Rockwell and/or Harrelson play some of the cops the determined protagonist clashes with. If either actor gets to bump heads with McDormand, then that should make for quite a standoff.
Martin McDonagh's next film begins shooting next month. Expect more casting news soon.