'I Am Wrath' Trailer: John Travolta Fears No One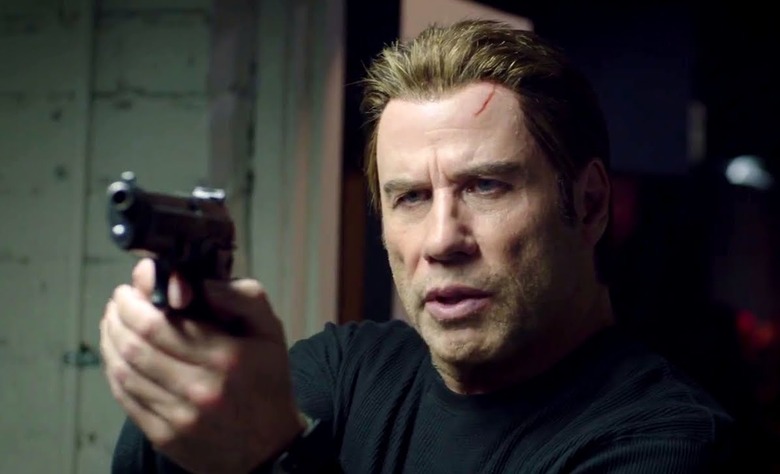 You know that delightful little moment in movies when the title of the film is said out loud by one of the main characters? Well, this I Am Wrath trailer takes the cake in that regard, because Chuck Russell's thriller literally places the title of the film on actor John Travolta's back. Travolta's back tat is one of the final images we see in the I Am Wrath trailer — and there couldn't possibly have been a better note to end on.
After Stanely Hill's (Travolta) wife is brutally murdered in front of him, the widower finds a new reason to live: revenge. Hill, who has a mysterious but violent past, wages war against those responsible for the death of his wife. Yes, the synopsis is familiar, especially in light of John Wick, but this I Am Wrath trailer isn't afraid of covering familiar ground – including an action beat that has The Equalizer written all over it.
Here's the I Am Wrath trailer (source: Comingsoon.net):
While the trailer begins on a serious note, things quickly turn silly when Stanley Hill takes justice into his own hands. But Travolta, God love him, appears committed to the role, taking it as seriously as he should. As proven by his wonderfully broad performance in The People v. O.J. Simpson, the performer isn't one to wink at the audience; he's playing it completely straight. Travolta is about as faraway from irony as an actor can get.
Once again displaying more of his comedic chops, aChristopher Meloni (They Came Together) seems to be having a good time playing Hill's buddy and former partner in crime. Meloni and Travolta aren't a bad-sounding combo, either, because seeing those two actors take on corrupt cops and criminals, in an R-rated movie from the director of The Mask and The Blob remake, could make for a lot of fun if done right.
Here's the official synopsis for I Am Wrath:
Unemployed engineer Stanley Hill (Travolta) witnesses the brutal murder of his wife Vivian (Rebecca De Mornay, TV's Jessica Jones) who was attacked by thugs in a parking garage. When Detective Gibson (Sam Trammell, True Blood) and other corrupt police officers are unable and unwilling to bring the killers to justice, Stanley turns to his old friend Dennis (Christopher Meloni, Man of Steel, TVs Law & Order) and decides to take matters into his own hands. It is only then that Stanley and Dennis are found to have a mysterious past that, until now, they kept very well hidden.
As they wreak their revenge, those involved in the cover up realize that Stanley and Dennis are more dangerous than they could have ever imagined...
Am Wrath is available on VOD starting April 15th and opens in theaters on May 13th.