Michael Keaton Will Train An 'American Assassin'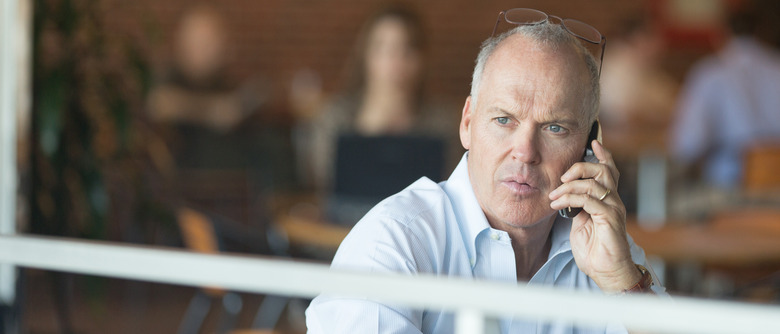 Michael Keaton is currently on top of the world. He's coming off of not one but two Best Picture winners, and could very well find himself in the Oscar race again next winter depending on how things go with The Founder. But that's not to say he's limiting himself to prestige dramas. His latest new project is the action thriller American Assassin, which, no surprise, is being envisioned as a potential franchise-starter. 
To be clear, Keaton won't lead American Assassin. The title role, of a young assassin named Mitch Rapp who carries out covert ops for the CIA, has yet to be cast. Instead, Keaton will play Stan Hurley, described by Deadline as a "shadowy" and "badass Cold War veteran who teaches the young assassin everything he needs to know." The film begins with Rapp reeling from the death of his fiancée in a terrorist attack. The CIA assigns Hurley to train Rapp in counter-terrorist operations. The pair later join forces with a Turkish agent to stop a mysterious agent from sparking World War III in the Middle East.
Michael Cuesta (Kill the Messenger, Showtime's Homeland) is directing American Assassin for CBS Films and Lionsgate. Stephen Schiff (Wall Street: Money Never Sleeps, FX's The Americans) wrote the script based on Vince Flynn's novel. Lorenzo di Bonaventura and Nick Wechsler are producing. No release date has been set, but shooting is expected to get underway this summer. If American Assassin is a hit, the filmmakers will have plenty of material to mine for sequels, as Rapp is at the center of 14 novels by Flynn.
Said Cuesta:
Stan Hurley is one of the pillars of the Vince Flynn universe and a favorite character for millions of readers, so casting him was a daunting challenge," said Cuesta. "To have an actor as intelligent and gifted as Michael Keaton bring this beloved character to life is a thrill for everyone involved in American Assassin and a cause for celebration amongst 'Hurley' fans the world over.
I haven't read Flynn's books, but based on Cuesta's statement it sounds like Keaton could be back for future installments if there are any. Antoine Fuqua was attached to direct sometime around 2009, and after he left Ed Zwick and Jeffrey Nachmanoff were linked to the project at various points. Gerard Butler, Colin Farrell, and Matthew Fox have all been rumored for the lead over the years. None of them are involved at present.