'Daredevil' Season 2 Teaser: A Blind Superhero, A Ninja Assassin, And A Brutal Vigilante Walk Into Netflix...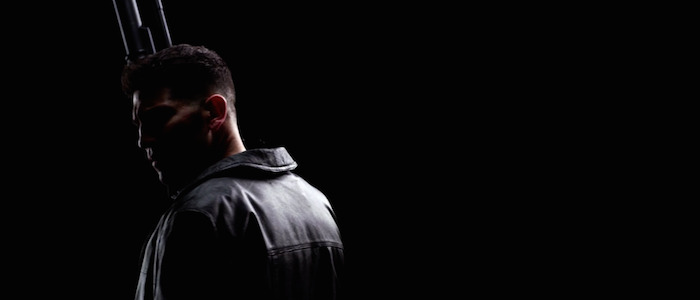 Daredevil season 2 arrives on Netflix in a little over a week and I'm already planning to binge the entire thing in a sitting or two. After all, I'm still high over how much I enjoyed Jessica Jones and the early reviews for this new season suggest that everything that worked about about the first 13 episodes continues to work here. Heck, I'm already planning to have a deep dive on the entire season ready to go the Monday after the premiere. I do this because I care.
And I also do this because there's a lot of promising stuff going on in Daredevil this season, especially the additions of Jon Bernthal's Frank Castle and Elodie Yung's Elektra to the cast. A new teaser has arrived highlighting these new additions, giving us a nice look at their costumes and offering everyone in the comments section something new to fight about.
The teaser premiered on the official Daredevil Twitter page and it offers no new footage. At all. But what it does offer is pretty cool if you're into overanalyzing superhero outfits. In the teaser, Daredevil (played by the wonderful Charlie Cox), Frank Castle (better known as the Punisher), and Elektra (Matt Murdock's old flame and deadly Greek assassin) all stand in a dark room while the camera shows off every square inch of their clothing. Meanwhile, ominous quotes from the characters like "If I take a night off, people get hurt" and "You don't get what you want by day, you take it by force at night!" lend the whole thing a foreboding quality.
An ancient evil is coming. Time to suit up. #Daredevilhttps://t.co/ncn7k9raJP

— Daredevil (@Daredevil) March 9, 2016
This teaser arrives hot on the heels of a new poster that offered our first clear look at Bernthal and Yung in their characters' iconic costumes. Well, mostly iconic. The show's take on the Punisher still looks just about perfect, but I still take issue with Elektra's classically red costume having the color drained out of it. Still, everyone looks much better when in motion under proper lighting. Posters, especially garishly photoshopped posters, have never been kind to superhero costumes. All that matters is whether or not they look good on screen.
The new season will also see the return of Deborah Ann Woll as Karen Page, Elden Henson as Foggy Nelson, Rosario Dawson as Claire Temple and Scott Glenn as Stick, but Netflix knows who we really care about. Hopefully, these newcomers live up to the hype when the season drops on March 18, 2016.