'Everybody Wants Some' Early Buzz: Oh, You Know, Just Another Great Richard Linklater Film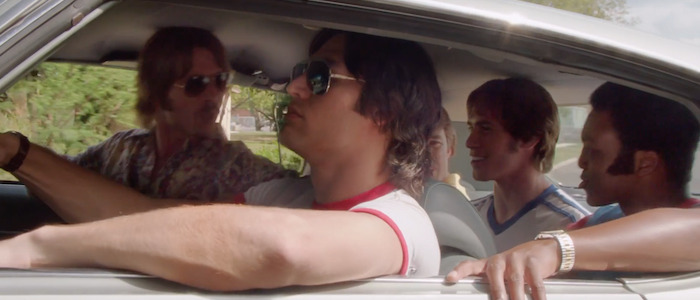 Richard Linklater is one of those filmmakers who just sneaks up on you when you least suspect it. He doesn't command a loud and unruly fanbase. His films tend to be low key, sometimes flying under the radar altogether. And yet, he's a true chameleon, a director capable of sliding between genres and juggling tones like tea others. His personal stamp may be subtle, but it is always evident – no one knows how make movies about hanging out, about conversation, better than Linklater.
His latest film, Everybody Wants Some, is set to premiere at the SXSW Film Festival later this week and I fully intend to be there (look for a review this weekend). However, the film has also screened for critics, who were allowed to tweet about it. So far, the reactions have been glowing.
Some basic detective work indicates that this was a New York City screening, and the audience included writers and critics from Uproxx, Rolling Stone, Thrillist, Buzzfeed, and ScreenCrush. As you can see from the tweets gathered below, the least enthusiastic reaction of the bunch still features the words "really," "really," and "enjoyed," in that order. A few tweets even double down on what the trailer suggested: this is very much Linklater's spiritual sequel to his iconic '70s high school film Dazed and Confused.
Linklater's 'Everybody Wants Some' is the rare movie that gets better and better as it goes along. A worthy successor to Dazed and Confused

— Mike Sampson (@mjsamps) March 8, 2016
Honestly, these reactions made me sigh with relief. As much as I enjoy Linklater's work, the trailer for Everybody Wants Some made this look like a goofy lark rather the proper follow-up to Boyhood and Before Midnight. But knowing that it's a plot-free hangout movie explains everything. That can be a tough sell, so assembling a trailer that emphasizes the broadest jokes possible makes (unfortunate) sense.
Here's how SXSW describes the film:
A "spiritual sequel" to Dazed and Confused set in the world of 1980 college life, Everybody Wants Some is a comedy that follows a group of friends as they navigate their way through the freedoms and responsibilities of unsupervised adulthood. Get ready for the best weekend ever.
Everybody Wants Some premieres at SXSW this Friday, March 11. It will open in theaters on April 1, 2016. Meanwhile, the film has already received a cool Mondo poster and and official beer, which may be the SXSW-iest thing to ever happen to a SXSW film. And that is before you remember that Mondo is dedicating its next full gallery show to Linklater and his filmography.