'Daredevil' Season 2 Poster Teases Actual Costumes For The Punisher And Elektra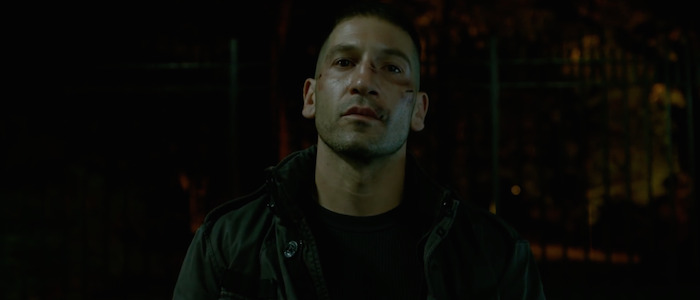 The first season of Netflix's Daredevil took ages to put Charlie Cox in costume, only giving the devil of Hell's kitchen proper superhero duds in the season finale (and for a single action scene). And even then, the outfit was controversial, with some fans grumbling that he should have just stuck with the pirate pajamas look from the rest of the season.
The mixed reactions to Matt Murdock's uniform haven't stopped fans from wondering if season two's new characters, Frank Castle (better known as the Punisher) and Elektra Natchios (better known as, uh, Elektra) would get to wear their classic costumes. A newly released poster answers that question: yes. For the most part.
The new poster puts Daredevil, Elektra and the Punisher on full display, each of them wearing their working clothes. This means that the issues many fans have with the Man Without Fear's outfit are on full display (why is there so much unnecessary black in a traditionally red design?), but it also offers a pretty great first look at what the other two will wear. Well, let's honest – what they'll probably wear in the last episode of the season.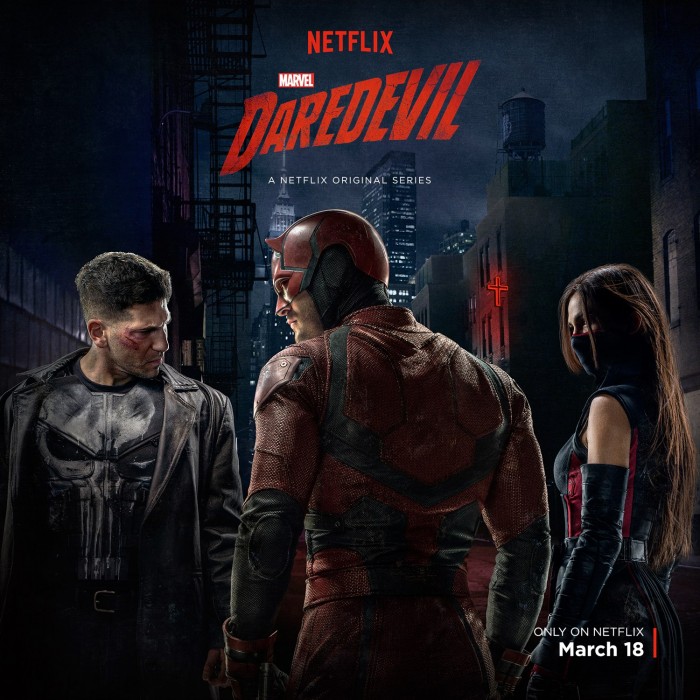 As you can see, the Punisher costume looks perfect, a spot-on recreation of the character's comic book look, and Jon Bernthal looks perfect in it. Although I have a huge soft spot for Punisher: War Zone and Ray Stevenson's heavily armored look in that film, this is, at a glance, the best looking live action take on this character that we've seen yet.
Elodie Yung's Elektra isn't quite as perfect, mainly because her costume commits the same sins as the Daredevil costume. The basic design is fine – she's a ninja assassin and that get-up certainly does scream ninja assassin at the top of its lungs. However, most of the color has been drained from it, turning a traditionally red costume into a black with a few red highlights. Sure, that sounds like a nitpick, but I'm reminded of how season one put the Kingpin in a black suit and included a line about how a white suit with an ascot would have been silly. It's almost like the show is still embarrassed to the be a superhero story, which is preposterous.
But overall? These new costumes get a big thumbs up and I look forward to seeing them in action when the second season of Daredevil drops on March 18, 2016. Look for a full report on the season on the Monday after it arrives.