'Captain America: Civil War' Is Marvel's Longest Movie Yet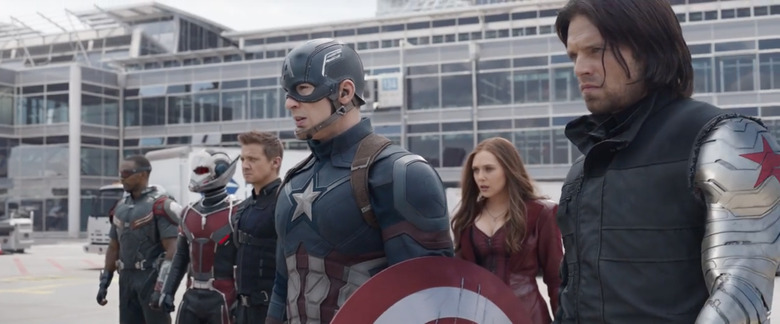 Captain America may be at the center of Captain America: Civil War, but in many ways his third solo outing looks as big as any Avengers movie. For starters, the film surrounds him with most of the Avengers (minus Hulk and Thor, who'll be off doing their own thing in Thor: Ragnarok next year). It also introduces some new friends and foes, including Black Panther, Spider-Man, and Baron Zemo. And it's tasked with paying off several multi-film story arcs, like the Cap / Iron Man rivalry and Steve's search for Bucky.
In other words, Captain America: Civil War's got a lot of ground to cover, and it's gonna need a lot of time to get to everything on its to-do list. Which is why it shouldn't come as a huge surprise that it's going to be the Marvel Cinematic Universe's longest movie ever, beating out both Avengers movies. It's still shorter than Batman v Superman: Dawn of Justice, though. 
Comic Book Movie has noticed a listing on Event Cinema that clocks Captain America: Civil War at 146 minutes (or two hours and 26 minutes if you don't feel like doing arithmetic). It's Marvel's longest movie, though not by much – Avengers: Age of Ultron was 141 minutes and the first Avengers was 143 minutes. The second-longest solo superhero movie from the Marvel franchise is Captain America's previous outing, The Winter Soldier, which came in at 136 minutes. Compared to rival DC, Civil War is five minutes shorter than Batman v Superman – though neither comes close to The Dark Knight Rises' mammoth 164-minute runtime.
Altogether, it means superhero fans will be spending a lot of time at the movies this year. Between Civil War, Batman v Superman, and Deadpool (108 minutes), we're already at six hours and 45 minutes of big-screen superhero adventures, with X-Men: Apocalypse, Suicide Squad, and Doctor Strange still to come. And that's not even factoring in the countless hours we're spending on superhero TV shows like Agents of S.H.I.E.L.D., Agent Carter, The Flash, Arrow, Legends of Tomorrow, Supergirl, Gotham, Daredevil, Luke Cage, and so on. Are you feeling superhero fatigue already, or are you just excited to spend more time than ever with your favorite costumed crusaders?
Marvel's "Captain America: Civil War" finds Steve Rogers leading the newly formed team of Avengers in their continued efforts to safeguard humanity. But after another incident involving the Avengers results in collateral damage, political pressure mounts to install a system of accountability, headed by a governing body to oversee and direct the team. The new status quo fractures the Avengers, resulting in twocamps—one led by Steve Rogers and his desire for the Avengers to remain free to defend humanity without government interference, and the other following Tony Stark's surprising decision to support government oversight and accountability. Get ready to pick a side and join the nonstop action playing out on two fronts when Marvel's "Captain America: Civil War" opens in U.S. theaters on May 6, 2016.