'Captain America: Civil War' Posters: Team Iron Man Seems To Be One Man Short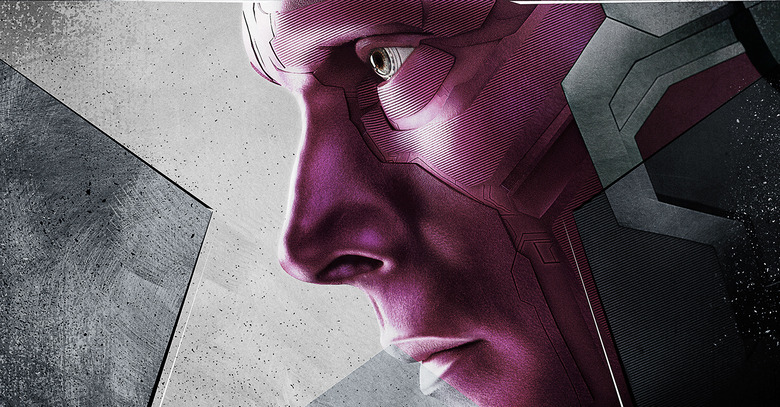 Yesterday brought our report straight from the set of Captain America: Civil War when the film was in production in Atlanta, Georgia last June. Along with that came a batch of posters for all the characters on Team Cap, as well as an interview with stars Chris Evans and Sebastian Stan. But that was just the beginning of our Civil War coverage this week.
There are rumblings of a new trailer for the Marvel Studios sequel arriving this week, but in the meantime, we're running interviews from our set visit all week. Today we've got interviews with Robert Downey Jr., and some good stuff with Chadwick Boseman, a.k.a. Black Panther. But right now we've got a batch of new Captain America Civil War posters showcasing Team Iron Man, and one can't help but notice they're a man short when facing Team Cap.
Here's the batch of Captain America: Civil War posters featuring Team Iron Man from Disney:
That's Scarlett Johansson as Black Widow, Don Cheadle as War Machine, Paul Bettany as Vision, Chadwick Boseman as Black Panther and Robert Downey Jr. as Iron Man. For those good at math, that's only five people on Team Iron Man, which is one less than the line-up for Team Cap. Will that slot end up being filled by Tom Holland as Spider-Man?
With rumblings of a new trailer this week and one slot left to fill on Team Iron Man, I wouldn't be surprised if Spider-Man was finally revealed this week. But in our set report, we explained how Marvel was playing things about Spidey very close to the chest when we were on set, to the point that they were pretending that he wasn't already locked in to appear in the movie. Here's hoping we get our look at Spider-Man soon, especially since they just cast another key player in the film this week.