Shane Black's 'Predator' Sequel: Will Arnold Schwarzenegger Return?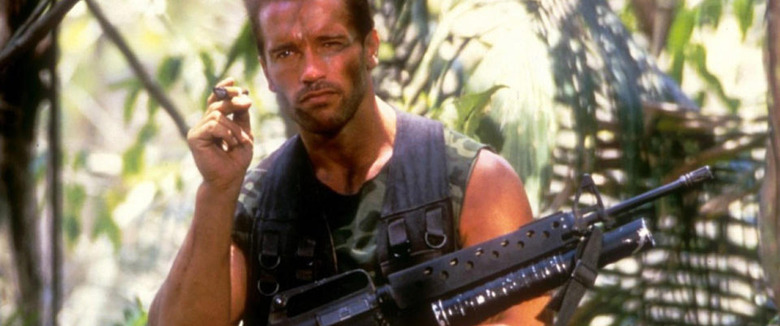 We're less than two years away from Shane Black's The Predator. The writer and director of The Nice Guys co-starred in the original John McTiernan film, partially because McTiernan and producer Joel Silver wanted a writer on the set. Now, Black is making his own Predator picture, titled The Predator, which Arnold Schwarzenegger could possibly appear in.
Read Schwarzenegger's comments below.
Schwarzenegger has attempted to relaunch some of his most iconic franchises over the past few years. Terminator Genisys failed to revive the series, while The Legend of Conan has been slowly working its way to the big screen. We're still waiting to see if The Legend of Conan happens, but, before that sequel, maybe we'll see Schwarzenegger return to another iconic role of his.
Black and Schwarzenegger last worked together on The Last Action Hero. As for whether they'll collaborate on The Predator, the actor told The Arnold Fans that he's meeting with Black soon to discuss the project:
I haven't talked with [Shane Black] yet but I'm going to meet with him for lunch sometime soon. Just as soon as I'm finished with [Arnold's Sports Festival] and 'The Apprentice' and all this stuff. But I will get together with him. If there is any news, we'll of course let you know right away. There's also a meeting coming up soon about 'Conan,' about the project moving forward.
Major Alan Schaefer was the sole survivor of the first Predator. Black has stated before his film isn't a reboot but a genuine sequel, so maybe there's room for Schwarzenegger:
Black tells us that he and [co-writer Fred Dekker] see the project as definitely not a reboot, "As far as Fred and I are concerned anyway," Black said, adding "Why start over, when you've all this rich mythology yet to mine?" Black said he doesn't like reboots generally, but can "really get behind inventive sequels", noting that he likes "the idea of expanding and exploring the existing Predator mythology, rather than hitting the restart button."
And Dutch is a part of the Predator mythology. Obviously others have survived encounters with the vicious aliens, but forgetting about the sequel and the Alien vs. Predator films, Arnold played the only surviving character fans actually care about. Schwarzenegger returning for a Predator sequel co-written and directed by Shane Black is promising, even if it'd be nothing more than a substantial cameo.
This meeting could lead to nothing, but then again, maybe Dutch actually has a real role in The Predator. Since this isn't a reboot, Black and co-writer Fred Dekker could naturally bring the character back.
The Predator opens in theaters March 1st, 2018.