'Justice League': J.K. Simmons Cast As Commissioner Gordon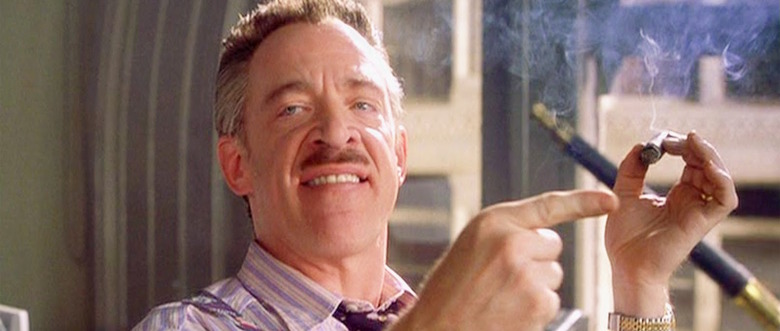 J.K. Simmons, known to comic book movie fans as the guy who spent three films yelling at Spider-Man, will get to yell at some DC characters for a change. He's just been cast as Commissioner James Gordon in Justice League, which begins shooting this spring under director Zack Snyder for release in 2017. 
Simmons will join Henry Cavill as Superman, Ben Affleck as Batman, Gal Gadot as Wonder Woman, Jason Momoa as Aquaman, Ezra Miller as the Flash, and Ray Fisher as Cyborg in the movie. (Green Lantern is expected to sit this one out.) Amy Adams will additionally return as Lois Lane. The Hollywood Reporter vaguely describes the plot as seeing the heroes "teaming up to combat a threat beyond each member's capabilities." According to Variety, Gordon was the last major role remaining to be cast before production on Justice League.
Although Simmons is only confirmed for the two-part Justice League at the moment, odds seem good he'll reprise his role for Affleck's solo Bat-movie whenever it gets going. The characters have a strong association going all the way back to 1939, when they debuted together in the pages of Detective Comics #27. The character has appeared onscreen in various incarnations over the years. Gary Oldman played him in Christopher Nolan's Dark Knight trilogy, and Pat Hingle in Tim Burton and Joel Schumacher's movies. Currently, a younger version of Gordon, played by Ben McKenzie, leads Fox's Batman prequel Gotham.
The casting is great news for DC Comics fans, but maybe less happy for Marvel fans, many of whom had hoped he'd return as Jameson for the upcoming Spider-Man reboot.
Simmons won a Best Supporting Actor Oscar last year for his terrifying performance in Whiplash, but he hasn't rested on his laurels — far from it. He can currently be heard in Disney's Zootopia, and has Susan Sarandon's The Meddler, Damien Chazelle's La La Land, and Gavin O'Connor's The Accountant all due out later this year. He's currently shooting The Snowman with director Tomas Alfredson and star Michael Fassbender, and has Peter Berg's Patriots Day coming up in the near future.
Justice League will open in two parts on November 17, 2017 and June 14, 2019. Chris Terrio (Argo) wrote the screenplay.