'Hellboy 3': Ron Perlman Says You Shouldn't Get Your Hopes Up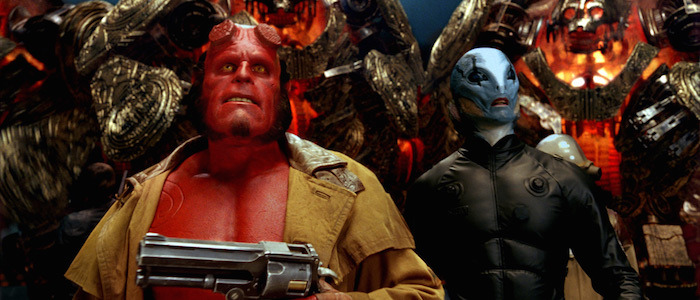 When the superhero movie boom eventually ends and a historian sits down to write the big book recounting the history of this genre and its impact on popular culture and the film industry, the chapter of Guillermo del Toro's Hellboy films should make for an interesting read. Here are two films directed by one of the most beloved filmmakers working today that limped out of theaters following disappointing theatrical runs, only to find their their true audience on DVD. Here are two films that demand a sequel, a conclusion, but won't get one because a passionate online following doesn't always translate to actual money at the box office.
Now, series star Ron Perlman is admitting that Hellboy 3 probably won't happen. It's time to put this pipe dream to bed.
Although the bulk of this Variety article concerns Pottersville, the first film financed by Perlman's Wing and a Prayer film fund, it does pause to address Hellboy 3. And now, Perlman says that another film:
...probably will never happen, though you never say never never.
This is disappointing for a number of reasons, but it's more than a little heartbreaking because Perlman has spent the past six months rallying fans to demand a third film. It all began with this tweet, first published last June:
Anybody out there wanna see #HellboyIII as much as I do? Let's get this muthafucka trending, y'all!
Let's end the trilogy; we earned it!

— Ron Perlman (@perlmutations) June 3, 2015
And Perlman kept the campaign going strong, even taking to Instagram a few weeks after the original tweet to hint at potential forward momentum on the project. Meanwhile, Guillermo del Toro continued to caution fans that Hellboy 3 was a long shot, but he promised to revisit the idea after making Pacific Rim 2 (and we all know what happened with that).
But Perlman kept the campaign alive, even speaking on the matter during a TCA panel that had nothing to do with Hellboy:
Let me make the record clear. I don't want to do Hellboy 3. It's a pain in the ass to put that makeup on and take it off. But I feel we're obligated to finish the story. That's it. End of conversation.
Perlman even teased the actual plot of the film, which would have involved Hellboy finally having to come to terms with his role in the coming apocalypse:
Guillermo told me what the resolve of the trilogy would look like, in broad strokes, and it's such an amazingly theatrical, cinematic idea, that I found it essential that we do it. We were designed to be a trilogy, with a beginning, a middle and an end. We've only done two-thirds, so I feel that we're not really done until we finish it ... [And then, as to the actual story...] Holy sh*t, he's the beast of the Apocalypse. He has to take down civilization. He has to. It's non-negotiable. That's the foundation for the story, and that's why I think it would be a shame if we don't do it.
So, for the time being, it looks like Perlman's Hellboy 3 campaign has officially come to an end. After all del Toro is busy with one of a dozen different projects and Perlman is keeping himself occupied with other projects (he appeared in ten movies, TV shows, and video games in 2015 alone). Look at it this way though: we have two very good Hellboy movies and, this way, the second film's happy ending gets to permanent.