Star Wars Bits: A New Han Solo Comic Series, Disney's Star Wars Land, And What The Original Star Wars Script Says About Han Shooting First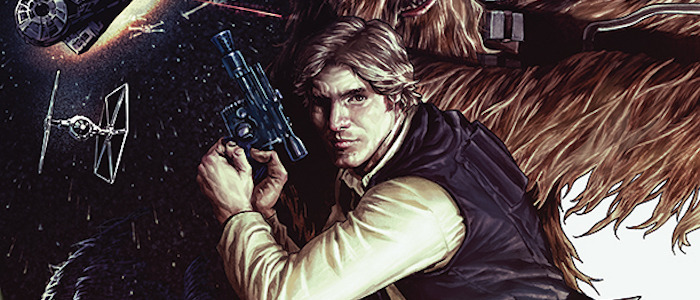 In today's jam-packed edition of Star Wars Bits:
Marvel reveals a new Han Solo comic series.
Peter Mayhew's Star Wars screenplay answers a big, big question...
Pablo Hidalgo shares a very interesting style guide.
A new book series will introduce new Star Wars characters.
Two minor Star Wars icons have passed away.
Dave Filoni discusses Star Wars Rebels season 2.
Episode descriptions for the final episodes Star Wars Rebels season 2 have shown up online.
New details on Disneyland's Star Wars land construction have been revealed.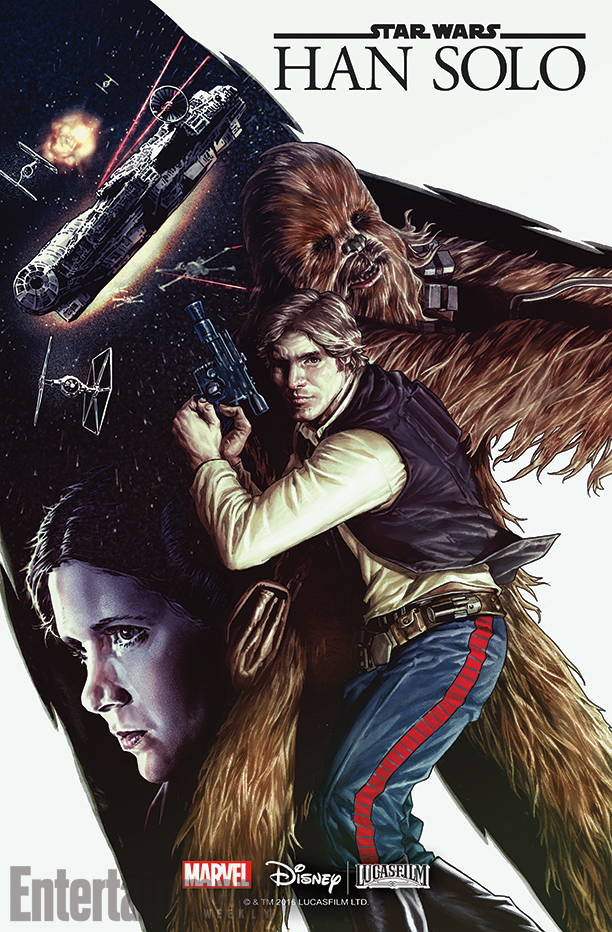 Marvel has announced that they will begin publishing a Han Solo comic book miniseries this June, following the beloved smuggler on a story that takes place between the events of Star Wars and The Empire Strikes Back. The series is being written by Marjorie Liu and illustrated by Mark Brooks, while Lee Bermejo will provide covers. Here's how EW describes the plot of the series:
The story involves a starship race known as the Dragon Void Run. "Han's been dreaming ?of entering this thing for his entire life," Liu says. "He finally gets? the chance, except there's a catch: Leia thinks there are spies in the Rebellion, and she doesn't dare send anyone else to retrieve these vital informants who are on various planets in the system."
As Han and Chewie start sheltering these Rebel contacts aboard the Millennium Falcon, the Corellian pilot fights the pull of his own ego's tractor beam: If he ditches the mission, maybe he can actually win this thing.
This series follows the pattern that Marvel's Star Wars comic series have been following for some time now – the ongoing main Star Wars series and Darth Vader are always accompanied by a miniseries focusing on a single beloved character. Previous miniseries have included Lando, Chewbacca, and Princess Leia.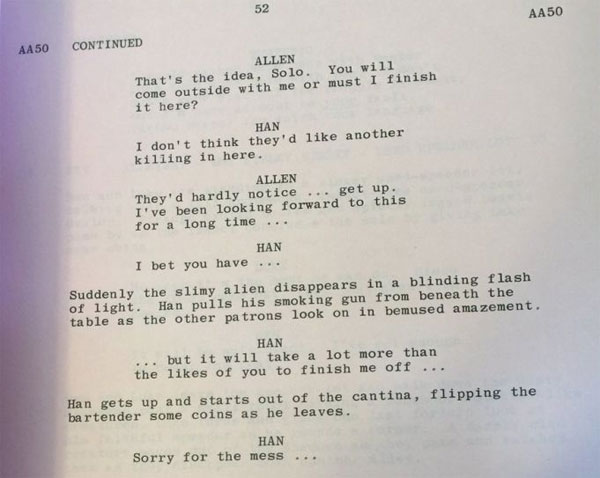 Speaking of Han Solo, the original screenplay for Star Wars helps solve the entire "Han shot first" debacle once and for all. Chewbacca actor Peter Mayhew has been sharing pages from his copy of the script on Twitter and he just reached this iconic moment. As you can see for yourself in the image above, the written page makes it very clear that Han pulled the trigger without any hesitation.
Speaking of fascinating stuff from the future ending on on Twitter, Lucasfilm creative executive Pablo Hidalgo has been sharing pages from a style guide written for people working on a Star Wars role playing game in 1994 and it's...well, let's just say that it accurately predicts a lot of went wrong with the prequel trilogy. Far too much of what this guide warns writers to avoid ended up in George Lucas' screenplays The Phantom Menace and its sequels.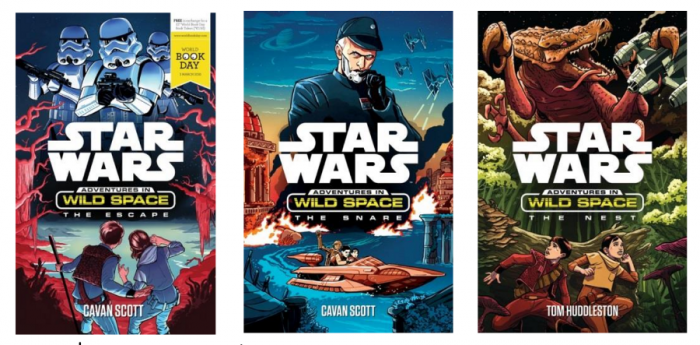 Egmont Publishing is launching a new Star Wars book series targeted at young readers titled Star Wars: Adventures in Wild Space. And here's why this concerns you – these books will center around new characters rather than trot out your old favorites. There's something admirable about that. Here's how Star Wars News Net describes the plot of the series:
The new series stars Milo and Lina Graf who set off on a perilous journey across the unknown reaches of Wild Space to rescue their parents who have been abducted by agents of the evil Empire. We meet a whole new cast of characters, including a new droid, CR-8R, and a new villain, Captain Korda...
You can check out the covers of the first three books in the series above and designs for the main characters below.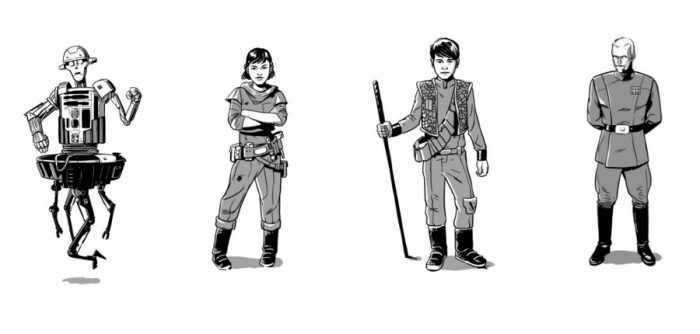 And now for some sad news. Actor Richard Bonehill, a professional swordsman and actor who played various roles in The Empire Strikes Back and Return of the Jedi, has passed away at the age of 67. He wore many hats in those two films, playing a Stormtrooper, a rebel soldier, a TIE fighter pilot, a Tauntaun handler and Nien Nunb, Lando's co-pilot in the final assault on the second Death Star. The news was reported by the Truro Fencing Club in the U.K., where he was the former head coach and president. The Star Wars movies are filled with minor heroes like Bonehill and he will be missed.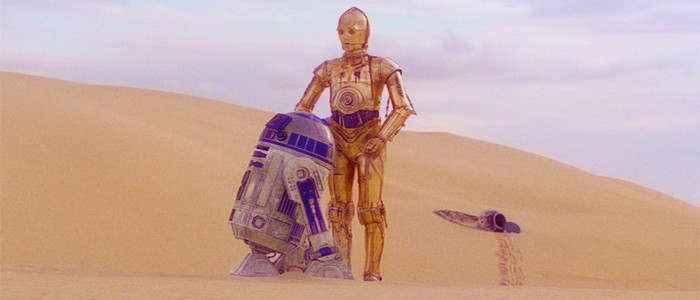 While we're bumming you out, Tony Dyson, the British professor who built the original R2-D2 for 1977's Star Wars, has passed away at the age of 68. Although Dyson would lend his skills to other films, his physical versions of Ralph McQuarrie's iconic design became iconic worldwide. He built eight R2 units for the film – some were remote controlled and others required the use of Kenny Baker to operate. He may be gone, but his work will live on for as long as people like Star Wars. In other words, forever.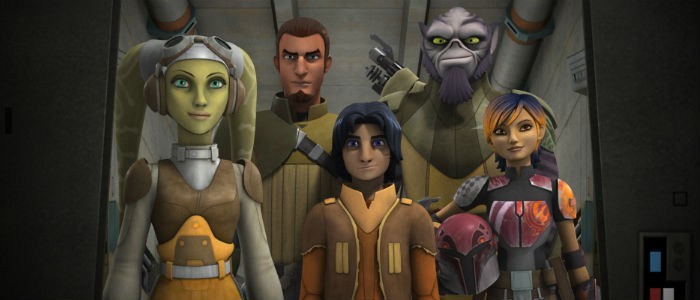 The New York Daily News sat down with Star Wars Rebels executive producer Dave Filoni. The whole interview is worth your time, but this bit on why the rebels of the show don't feel quite like the Rebel Alliance of the films is especially interesting:
"What we find is that different pockets of rebels are trying to fight back against the Empire in different ways and not everybody is on board with a full out war with the Empire ... I mean, this is a people that just had a Clone War for several years. To follow that up immediately with another, on any galactic scale, would be a terrible thing. So it's a growing time for our crew and we mainly stay focused still on our crew and the resistance fighters that are around them."
Filoni also discussed the future of Darth Maul in the Star Wars universe:
"It would be great to tell more stories with him. We had more in 'Clone Wars' and some of them we put out in a comic book form (2014's 'Darth Maul: Son of Dathomir'). You never know, he is a great character; we're just very careful which ones we bring in. What would that be like, for him to meet the rebel group, I mean could they deal with him?  I never say never because I brought Maul back and I would have thought that was impossible myself. Once you do that, anything's possible."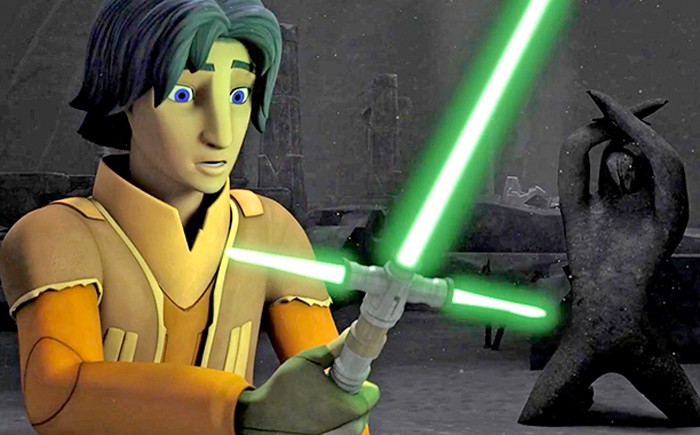 Speaking of Rebels, Jedi Bibliothek (via Making Star Wars) has uncovered episode descriptions for the final five episodes of the second season. Naturally, you should consider these spoilers. If that's not your thing, feel free to skim past these synopses:
S2E18 "Shroud of Darkness":
"Kanan, Ezra and Ahsoka return to the Jedi Temple on Lothal, seeking answers from Yoda about the Inquisitors' ability to continually track the rebels."
S2E19 "The Forgotten Droid":
"When Chopper gets left behind at an Imperial outpost, he forms an unlikely friendship with an Imperial droid, and discovers a base location for the rebels."
S2E20: "Mystery of Chopper Base":
"Kanan, Ezra and Ahsoka prepare to depart to unravel Vader's secret, while the rebels find a way to fend off the predatory creatures that occupy the planet."
S2E21&22 "Twilight Of The Apprentice Parts I and II":
"After gaining information about the Sith, Kanan, Ezra and Ahsoka battle the Inquisitors with the help of a new ally, but are overmatched when Vader arrives."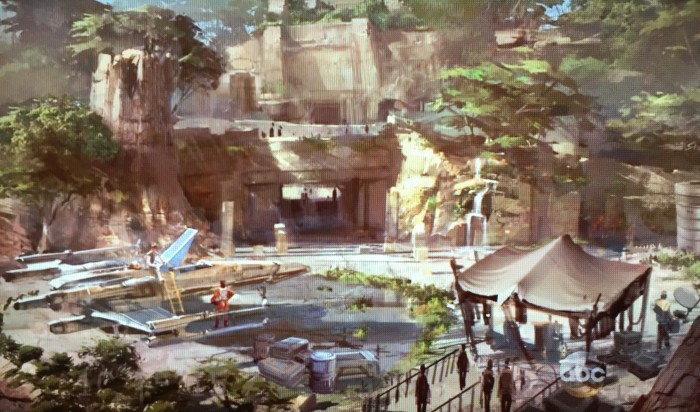 We have heard previously that construction of Disneyland's Star Wars theme park land will begin in earnest in April. And since this land will now inhabit a huge chunk of the park's property, some fans have wondered how the iconic Disneyland railroad will interact with the area. A source close to project told Making Star Wars the following:
I can 100% confirm to you that the Disneyland Railroad will pass in front of "Star Wars Land," not through it like the original plan and the entrance near "Splash Mountain" will be through a "tunnel."
That certainly make sense – nothing would break immersion quite like a old fashioned seam engine coming through a distant science fiction spaceport. However, fans hoping to get a unique look at Star Wars land from the train will have to find unique photo opportunities elsewhere.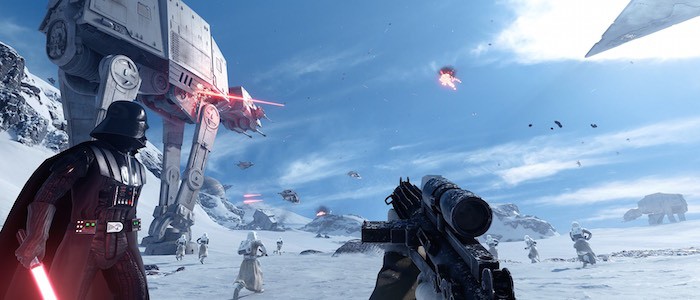 In January, EA revealed that three expansion packs were coming to Star Wars: Battlefront. Now, details of the first pack, titled "The Outer Rim," have been revealed and they're pure fan service. New maps set on Sullust and Tatooine will give players a new place to battle it out and new playable characters in the form of Greedo and Nien Nunb (just in case you're too cool to play as characters normal people can recognize). New weapons include Relby V-10 rifle, the DT-12 blaster pistol, a Scatter Gun, a Dioxis Grenade and an Adrenaline Stim. There will also be a new gameplay mode called Extraction, which is described like this:
"Rebel forces have entered some of the most dangerous places in the Outer Rim in order to extract a valuable shipment of resources. Now they must bring the shipment to their transport ship before time runs out. The Empire has arrived to stop them from reaching the extraction point."
You can buy the Battlefront season pass, which includes "The Outer Rim" and the rest of the DLC, for $69.99.
The board game review show Shut Up and Sit Down has posted their review of Fantasy Flight Games' Star Wars: Rebellion and it's mostly positive. We'll be posting our own review of this gigantic tabletop game soon, but in the meantime, you can watch a few very funny Englishmen explain why this game is worth your $99.