More 'Baywatch' Movie Photos: Dwayne Johnson, Kelly Rohrbach & Zac Efron Hit The Beach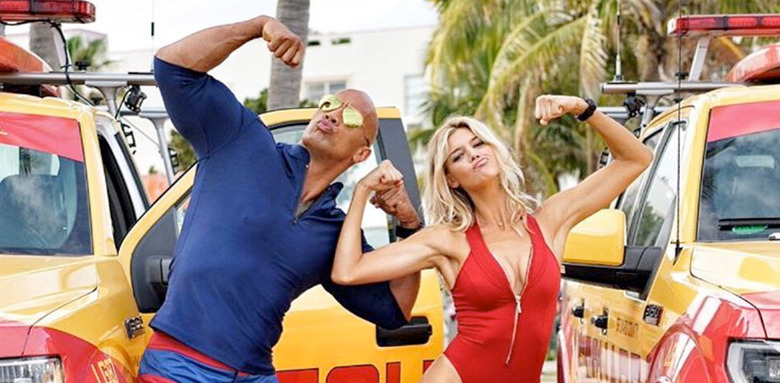 Production is currently underway on Baywatch, the feature comedy adaptation of the popular TV series from the 90s that puts Dwayne Johnson and Zac Efron in the lead roles. We've already gotten a first look at the duo on set and in their lifeguard gear, but both of the stars have been posting photos to Instagram from the set over the past week, showing us even more from the set.
The latest round finally gives us our official first look at Sports Illustrated model Kelly Rohrbach stepping into the red swimsuit once filled out by Pamela Anderson as C.J. Parker. Even though this is a comedic adaptation of the TV series, it's easy to see that they've kept the sex appeal intact as well. Check out the new Baywatch movie photos below.
Here's some of the photos from Dwayne Johnson and Zac Efron on Instagram:
As you can see, those red swimsuits are cut pretty high, and they don't leave much to the imagination. Rohrbach certainly has the look down to bring Pamela Anderson's character to life, but does she have the acting skills? Sure, Anderson was never an actress worth writing home about as far as her acting ability is concerned, but this is a different animal than melodramatic television. Comedy can be tough to crack, so hopefully Rohrbach can pull it off in her breakthrough role.
The other featured cast members in the pictures include Ilfenesh Hadera (Billions) and Priyanka Chopra (Quantico), the latter playing the film's villain in the movie. But we haven't yet see Alexandra Daddario in any of these pictures from the set, not to mention Hannibal Buress or Jon Bass. Surely at some point Johnson will post a picture whenever David Hasselhoff arrives on set, since he already confirmed the Baywatch star to have a role in the flick.
Baywatch is directed by Horrible Bosses helmer Seth Gordon with a script recently rewritten by Damian Shannon and Mark Swift, the duo behind the 2009 reboot of Friday the 13th and Freddy vs Jason. So far I like what we're seeing from the movie, but since this is an R-rated comedy, it can't effectively be judged until we see the first footage from the flick. My hope is that we get something that is equally hilarious and full of action, not unlike 21 Jump Street.Baywatch hits the beach and the big screen on May 19, 2017.