'MIB 23' Is The 'Jump Street' / 'Men In Black' Crossover Title [CinemaCon 2016]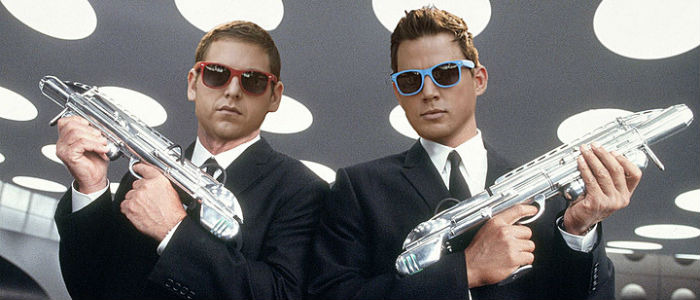 UPDATE: Sony announced at CinemaCon that the title of the Jump Street / Men in Black crossover will be MIB 23.
Our original story from March 4, 2016 follows.
One of the biggest surprises to come out of the 2014 Sony hack (at least for our purposes) was the news that the studio was considering merging two of its franchises, 21 Jump Street and Men in Black. It seemed like a wild idea at the time, but now it's actually happening. James Bobin (The Muppets, Alice Through the Looking Glass) is in early talks to helm the movie, which will bring back 21 Jump Street's Channing Tatum and Jonah Hill. 
According to Variety, the 23 Jump Street Men in Black crossover hasn't officially been greenlit. But the studio is eager to move. They're already in conversations with Bobin, and are eyeing a June start date for the shoot. Besides the two Muppets movies and Alice Through the Looking Glass, Bobin's credits include HBO's Da Ali G Show and Flight of the Conchords.
Tatum and Hill are set to reprise their roles as Jenko and Schmidt, and will additionally produce. However, Men in Black's Will Smith and Tommy Lee Jones are not involved. Instead, the studio will seek out "younger, fresher faces" to carry on the series. One of them might even be a woman. No new casting has been announced, though if Sony really is looking to film this summer, it shouldn't be too long before we get some interesting updates.
Phil Lord and Chris Miller directed the first two Jump Street films but will only produce the Men in Black crossover, as the duo will be busy with the Han Solo movie. Neal Moritz, who produced the last two films, is also returning. Rodney Rothman wrote the script. Plot details are being kept under lock and key, but Lord and Miller have teased that it will somehow make those fake sequels canon.
The Jump Street films have been hits for Sony, and though they haven't included any sci-fi or supernatural elements so far, the universe of these movies is just silly enough to introduce them without too much trouble. The Men in Black series, on the other hand, has floundered. 2012's Men in Black 3 did big business abroad but ultimately didn't garner enough buzz to earn a follow-up. A mash-up could help revive that property, and it sounds just crazy enough to work.
Meanwhile, Sony is also developing a separate female-driven 21 Jump Street spinoff with Broad City's Lucia Aniello and Paul W. Downs and Bob's Burgers' Lizzie and Wendy Molyneux writing competing scripts.