'Sing Street' Clip: Hear The First Single From Your New Favorite '80s Rock Band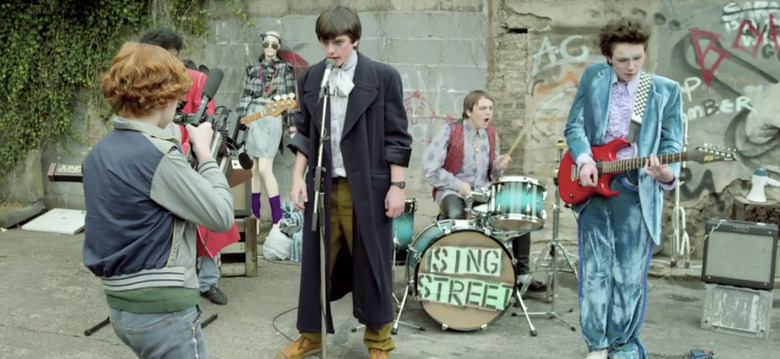 One of our favorite movies at the 2016 Sundance Film Festival back in January was Sing Street from director John Carney. In my review from the festival, yours truly called the movie "marvelous, delightful and just plain great." You've probably already seen the trailer for this flick that comes straight from the heart of the 1980s and all the pop rock that comes with that decade, but now a new clip has debuted showing us just how great the teen band at the center of the film truly is, even if they're a bit clumsy shooting the music video for "The Riddle of the Model," their first single.
Here's the Sing Street clip straight from The Weinstein Company:
As much as this film is about the love 14-year old Conor (Ferdia Walsh-Peelo) comes to have for music in his pursuit of an alluring older girl, it's also just about passion in general. That theme carries through to the homemade music videos in the movie, the touching relationship between Conor and his older brother (Jack Reynor) and more. You will undoubtedly get this song and a couple others stuck in your head, especially "Drive It Like You Stole It," my favorite track from the film (you can hear it in the second half of the trailer)
The good news is that Sing Street just recently landed a spring release date on April 15, so if you've been desperate to see this movie ever since the rave reviews started pouring in from Sundance, you only have to wait a little over a month before you can check it out. I know I'm eager to see it for a second time as well as downloading the soundtrack as soon as it's available.
SING STREET takes us back to 1980s Dublin seen through the eyes of a 14-year-old boy named Conor (Ferdia Walsh-Peelo) who is looking for a break from a home strained by his parents' relationship and money troubles, while trying to adjust to his new inner-city public school where the kids are rough and the teachers are rougher. He finds a glimmer of hope in the mysterious, über-cool and beautiful Raphina (Lucy Boynton), and with the aim of winning her heart he invites her to star in his band's music videos. There's only one problem: he's not part of a band...yet. She agrees, and now Conor must deliver what he's promised – calling himself "Cosmo" and immersing himself in the vibrant rock music trends of the decade, he forms a band with a few lads, and the group pours their heart into writing lyrics and shooting videos.