'Miss Peregrine's Home For Peculiar' Children Photos Look Like Tim Burton's 'X-Men: First Class'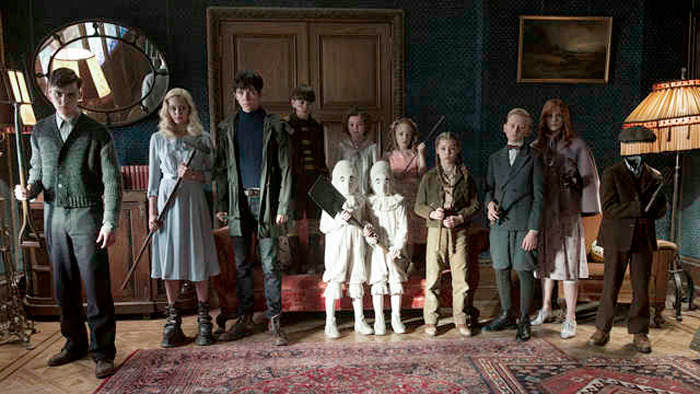 Even though there's a sequel to Alice in Wonderland coming out this year, it's not directed by Tim Burton. That's because the Beetlejuice and Batman director was busy working on another adaptation, Miss Peregrine's Home for Peculiar Children, based on Ransom Riggs' best-selling novel of the same name. And the first photos from the strange, period sci-fi fantasy adaptation have just arrived, making this movie look like Tim Burton's version of X-Men: First Class.
Here's the first Miss Peregrine's Home for Peculiar Children movie photos from Empire and EW:
For those who don't know anything about this book, the first in a series, here's the official synopsis:.
As our story opens, a horrific family tragedy sets sixteen-year-old Jacob journeying to a remote island off the coast of Wales, where he discovers the crumbling ruins of Miss Peregrine's Home for Peculiar Children. As Jacob explores its abandoned bedrooms and hallways, it becomes clear that the children were more than just peculiar. They may have been dangerous. They may have been quarantined on a deserted island for good reason. And somehow—impossible though it seems—they may still be alive.
In addition, the story finds Jacob trailed by some kind of monster that only he is able to see, all while learning about his grandfather at a time when he's still reeling from the old man's unexpected death.
Asa Butterfield (Ender's Game) plays Jacob while Eva Green plays the titular woman who gave a home for these strange children who all have strange powers and abilities. Burton describes Miss Peregrine as a "scary Mary Poppins" and that picture of her with a crossbow certainly gets that vibe across.
The X-Men: First Class feel may not be a coincidence since the screenplay comes from that film's writer, Jane Goldman. Hopefully Tim Burton is able to deliver something a little more interesting than his usual quirky, gothic circus adaptation style that has grown tired over the years. He's long overdue to do something that is both great and in his wheelhouse, and this could be it.
Ella Purnell, Allison Janney, Terence Stamp, Rupert Everett, Kim Dickens, Judi Dench, and Samuel L. Jackson also star in Miss Peregrine's Home for Peculiar Children which was just recently rescheduled to a September 30 release this year. More than likely we'll get a teaser trailer soon, so stay tuned.