Everybody Look At This 'Fear The Walking Dead' Season 2 Poster Because It's Sailing On A Boat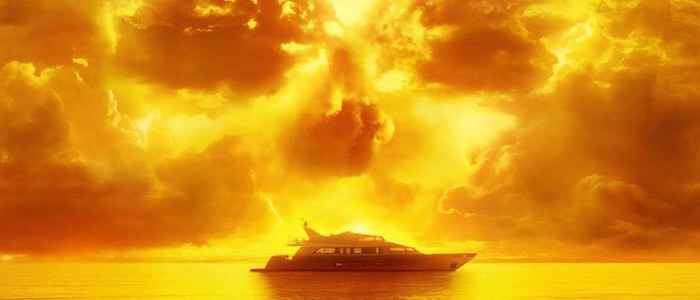 While AMC's The Walking Dead continues to grab headlines left and right as it casts strong actors as frightening villains and riles fans up with wacky plot twists and big developments, Fear the Walking Dead has just been kind of sitting there. The first season of the spin-off, which turns back to the clock to the earliest days of the zombie apocalypse and takes place on a separate coast entirely, received mixed reviews from fans and critics alike. Every joy came coupled with a frustration, which really is the Walking Dead experience in a nutshell.
With Fear the Walking Dead returning next month, AMC has released new key art that seemingly teases the focus of the new season. Yep, it's time explore the zombie apocalypse from a boat.
This shouldn't come as a particularly big surprise considering the cliffhanger ending of the first season, which found (Kim Dickens), Travis (Cliff Curtis) and the rest of their crew taking refuge in a gated home and contemplating an escape via the nearby yacht. It's definitely a unique place to take the story, as the Pacific Ocean and the California coastline will be a nice change of pace from the repetitive Georgia countryside that defines the regular The Walking Dead. Plus, giving the cast a central hub to operate from makes sense from a production point of view.
But what can we expect from a season of zombie horror where the characters spend much of their time on a yacht? I'm reminded of a great segment from Max Brooks' tremendous World War Z, which told the story of the community of ships and submarines and coastal refuges that spring up when millions of people flee the end of the world by taking to the ocean. I'm also reminded of Zack Snyder's remake of Dawn of the Dead, which climaxed with the survivors escaping on a boat...only to be brutally killed in a mid-credits sequence when the boat breaks down and they get stranded on an island full of zombies.
So the zombie apocalypse from an ocean-faring point of view is not a new thing. Hopefully, Fear the Walking Dead will do something new with this setting...or at least steal from those that have already used it best.
Fear the Walking Dead season 2 is set to premiere on Sunday, April 10 on AMC. This feels like the real make-it-or-break-it season – either the show locks down its voice and finds a real reason to coexist alongside The Walking Dead or it just continues to be more of the same.