Watch Footage Of Keanu Reeves Preparing For 'John Wick: Chapter 2' By Pretty Much Becoming A Real-Life John Wick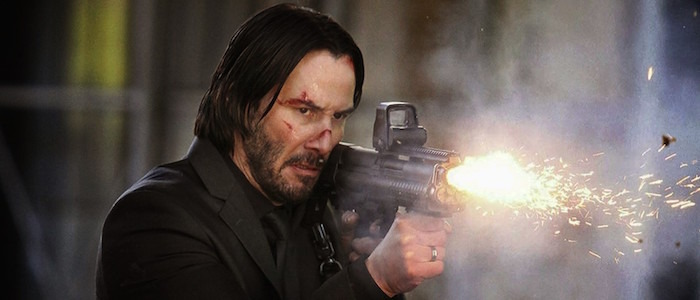 In addition to being an ageless immortal who will live on long past the rest of us are rotting in the ground, Keanu Reeves is one of the most dedicated actors working these days. Say what you will about his acting (but if you say anything negative, know that you're wrong), but here is a guy who gives every single performance everything he has. Watch any behind-the-scenes featurette or making-of documentary and you'll find Mr. Reeves immersing himself in whatever it takes to make his characters come to life.
So if you're wondering why Reeves was so convincing as an Unstoppable Killing Machine in John Wick, all you have to do is watch footage of him participating in some live ammo training as part of his preparation for John Wick: Chapter Two. Then you'll realize that Keanu Reeves is an actual Unstoppable Killing Machine. No acting required.
You can watch Reeves strut his stuff in the video below, where he moves around a target range, switching between a variety of weapons, and completely decimating a couple dozen imaginary foes. And since this John Wick training, you have to imagine that each and every one of those bullets is a headshot.
The next time you watch John Wick (and you should watch it every single damn day for the rest of your life), take special note of just how long the shots are and how the camera and editing lingers long enough to let you really absorb the action. After all, if your leading man (and the amazing stunt team around him) is that impressive, why would you not want to show that off?
Specific details about John Wick: Chapter 2 remain unknown, but we know that the sequel will bring the deadly former assassin to Rome after the criminal underworld once again intrudes on his personal life. Since he was pulled out of retirement in the first movie by a gang of thugs murdering his dog, I can only assume that the villain of the sequel probably tramples his flower bed or cuts him off in traffic.
Reeves has promised that the sequel will up the ante, expanding the first film's wacky mythology and taking the action to the next level:
For us it was just what is the next chapter? What is the continuation of this story? Opening up the world – the underground world. The world behind the world in terms of the assassins. Kind of evolving the action – if the first one was a black belt, then this one is third degree black belt. It's such a fun project and a great character.
John Wick: Chapter Two is set to open on February 10, 2017. Chad Stahelski, who co-directed the first film, is helming this one solo.