Episode 8 Bits: Mark Hamill Says A Little Too Much, Dubrovnik Goes Neon, And A Few Probably Fake Titles Hit The Internet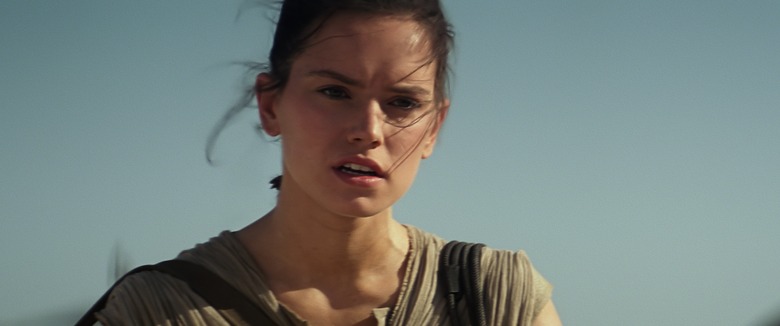 "Space Bear," otherwise known as Star Wars: Episode 8, has been filming for a few weeks now and the slow trickle of news has become a steady trickle. In today's edition of Episode 8 Bits:
Mark Hamill may have just dropped clue about Rey's parentage.
Daisy Ridley reveals when Episode 8 will pick up.
A few titles have started making their way around the internet.
The Dubrovnik, Croatia set is starting to look a little more alien.
Episode 8 is supposedly scouting for locations in Mexico next.
And more!
Although he's been busy filming Episode 8, Mark Hamill took some time to appear at the Oxford Union and he said something...well, he said something very interesting. While discussing what it's like to work with Daisy Ridley, the man behind Luke Skywalker dropped what certainly could sound like a bombshell if taken in the right context:
Daisy is incredible, so genuine, appealing, lovable, she beams, she has a wonderful charisma - I adore her... She's my daughter's age – and that's how I relate to her.
When the audience reacted with with appropriate gasps, Hamill quickly clarified:
I don't mean anything by that. As actors, that's how I relate to that.
Fan theories concerning Rey's parentage have pegged Ridley's Rey as Luke's daughter since long before the film even began and there is some evidence in Star Wars: The Force Awakens to back this theory up. However, there's just as much evidence floating around to back up a number of other theories. So while it's entirely likely that Hamill just accidentally revealed a big Episode 8 spoiler, it's equally likely that he really was just referring to their off-screen dynamic. So take from this what you will.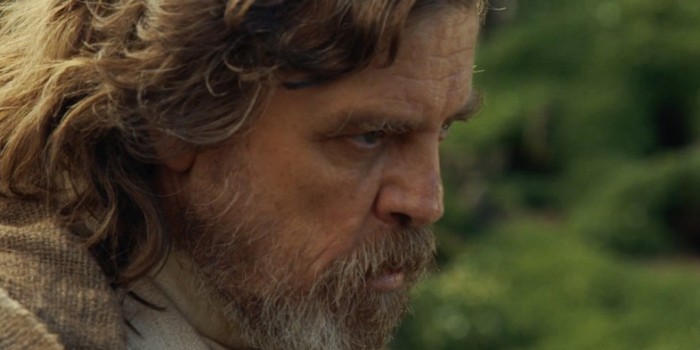 This news arrives shortly after Daisy Ridley spoke about working with Hamill, confirming that Episode 8 literally begins right as The Force Awakens ends:
Me and Mark have been rehearsing a lot, and it's really amazing. When we went back to Skellig to do the opening of [Episode] VIII, it was so crazy doing the same scene with a different crew of people. He's amazing to rehearse with, and I'm very excited to be doing the rest of the stuff. It's such a good story. Seriously. Luke is so cool in this one. Really.
It's still not clear at all what's going to transpire in Episode 8 (there aren't even any dumb/interesting rumors floating around to chew on and throw away), but this already represents a major first for the Star Wars franchise. Normally, there's a time jump between films, but it looks like Rian Johnson is going to take full advantage of J.J. Abrams' cliffhanger.
And while we don't have any dumb plot rumors to sift through, we do have a few dumb title rumors! Film Hype claims that the title of the new film will be Star Wars: Tale of the Jedi Temple and they have a piece of promo art to prove it. Or rather, they shared a piece of promo art that could have been easily mocked up by just about anyone to prove it.
But wait, there's more! The other rumor going around is that it will be titled Star Wars: The Order of the Dark Side. Our guess? Neither of these titles are real and this is just the internet being the internet. After all, The Force Awakens isn't the most dynamic title in the world, but it's significantly better than both of these.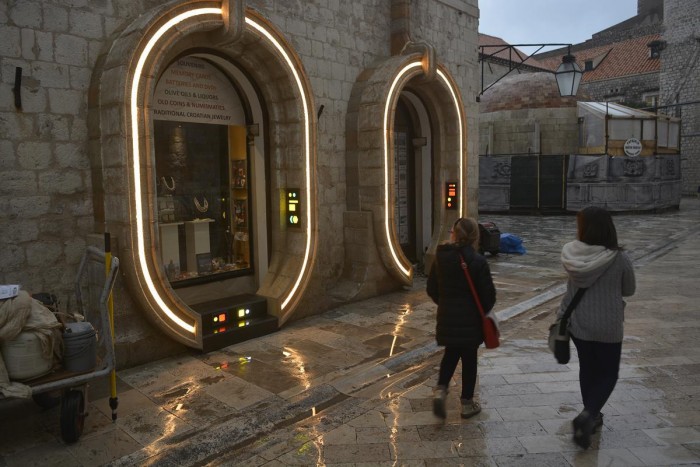 Star Wars Dubrovnik has posted a few images showing off how the streets of the city have been dressed for the upcoming shoot. The city is now home to some fancy neon lights built around various storefronts, which look very cool when contrasted against that medieval architecture. The mere existence of these lights also suggest that at least some of the action (possibly even that big chase scene) will take place at night. You can check out more images of these sets over at the link above.
Meanwhile, a Landspeeder has been seen on the Dubrovnik set of Episode 8, which makes us under if the action sequence that's being filmed there may be the Star Wars equivalent of a car chase...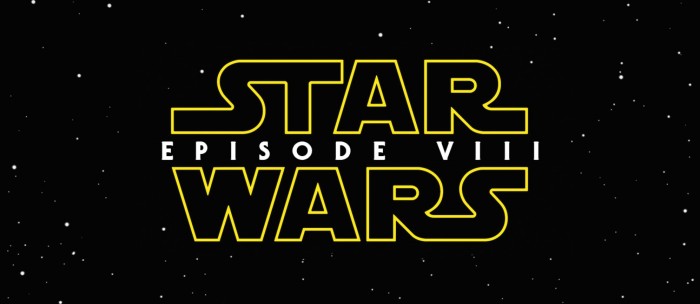 We've heard for some time that the Skellig Michael location was being recreated at Pinewood Studios for easier filming (because a controlled set > an isolated and restricted island) and now we have proof. Jedi Real Estate (via Making Star Wars) snapped a fuzzy photo of what looks like a stone hut, which could be a piece of that long lost Jedi temple or it could be Luke's little hovel where he lives a lonely and Yoda-like existence. Hit the link above to take a look.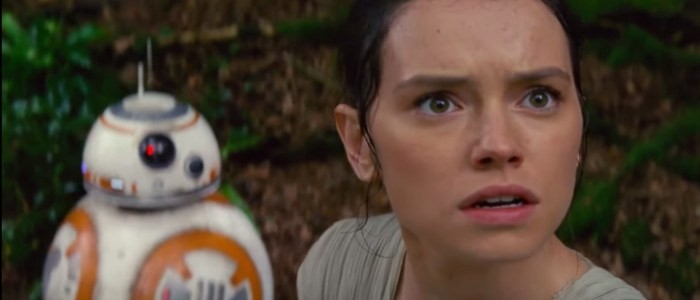 Sopitas.com (via Making Star Wars) reports that the production has been scouting locations in Mexico. More specifically, they've been looking at caves:
They came scoutings film and toured Tláhuac and Iztapalapa. They were interested in caves and grottoes species is there. Due to its characteristics, they thought they could pretend to be from another planet," the staff confirmed Film Commission of Mexico City.
So there you go – in addition to the streets of Dubrovnik, Croatia, the island of Skellig Michael, and the sets at London's Pinewood Studio, Episode 8 may be heading to some Mexican caves.