Carla Gugino And More Are Returning For 'Wayward Pines' Season Two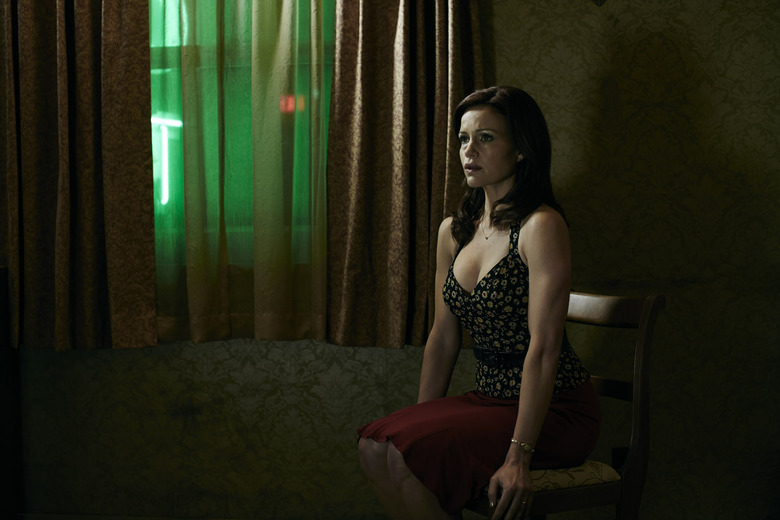 Wayward Pines is returning to Fox. Produced by M. Night Shyamalan and created by Chad Hodge, the show was originally planned as a 10-episode series. After it performed well with viewers, Fox decided to bring the show back, but only a few cast members are returning.
If you haven't seen all of Wayward Pines season one, then spoilers are ahead.
I only got halfway through season one, but from what I've heard, most of the main cast did not survive. During the first season, Wayward Pines had an advantage with only having to worry about a beginning, middle, and ending — just one long, self-contained story to tell, not five seasons. The show took a few risks because of that, killing off pivotal characters sooner than audiences expected. Creatively, it worked in the show's favor, and it more than likely convinced a few of the actors to join the project, since they probably didn't have to sign a five-year contract.
Last month it was announced Jason Patric (Narc) will star in Wayward Pines season two, playing Dr. Theo Yedlin, "a confident, driven surgeon whose leadership skills will prove invaluable." Yedlin awakes in Wayward Pines, amidst the middle of a rebellion. Entertainment Weekly says the show will begin following the events of the season one finale.
Both Carla Gugino (Roadies) and and Melissa Leo (The Fighter) are returning to their roles. Both actresses, according to EW, will guest star in at least one episode. Gugino made the announcement on her Instagram account, where she's posted a few photos from the set.
Season one featured a pretty impressive cast. With Patric starring and Gugino and Leo coming back, Hodge and all involved are working towards putting together another memorable ensemble for the show. Djimon Hounsou (Blood Diamond) has also signed on as a series regular for Wayward Pines season two.
Here's the official synopsis for season one:
Secret Service Agent Ethan Burke (Matt Dillon) drives to the bucolic town of Wayward Pines, ID, searching for two missing federal agents. Ethan is the logical choice for the mission. He's one of the best Secret Service agents in the Seattle office. He's also the man who knew missing agent Kate Hewson (Carla Gugino) better than anyone. They were partners. They were more than that. Their relationship nearly destroyed Ethan's marriage.
Everything changes when a truck slams into his car...and he wakes up in the Wayward Pines Hospital, with the intense and unpredictable Nurse Pam (Melissa Leo) at his bedside. It soon appears that Pam may be more interested in harming than healing. She and Ethan grow into deadly rivals, and her role in the town proves much deeper than anyone realizes.
Wayward Pines returns this summer.