'The Meddler' Trailer: Susan Sarandon Needs A Hobby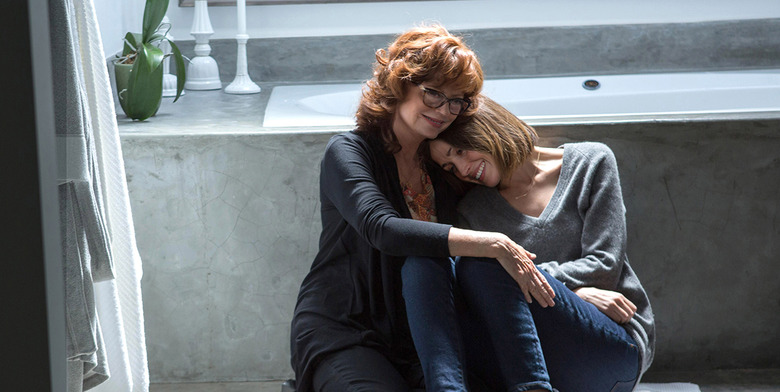 The Meddler was on my most anticipated of 2016 list. The film, which stars Rose Byrne and Susan Sarandon, is Lorene Scafaria's second directorial effort, following the effortlessly charming Seeking a Friend for the End of the World. Scafaria's film premiered at last year's Toronto International Film Festival, where it was greeted with a positive reception. Sarandon, in particular, was praised for her performance.
Watch The Meddler trailer below.
Bryne and Sarandon play mother and daughter in The Meddler. After the loss of her husband, Marnie (Sarandon) moves to Los Angeles to be closer to her daughter, a young and single screenwriter (Byrne). It's a personal story for Scafaria, who based the film on her own experience with her mother.
Here's The Meddler trailer:
What kind of monster wouldn't be ecstatic over Susan Sarandon bringing over bagels?
In all seriousness, this looks like a very sweet mother-daughter story. The trailer has such a warm and pleasant vibe about it, thanks to Sarandon's sweetness and obliviousness. We simply don't get enough of Sarandon in starring roles. She's done some fine supporting work (Arbitrage, Solitary Man) over the past few years, but it's great to see her in the lead role this time around. With J.K. Simmons, Rose Byrne, and more, she has a fine supporting cast at her side, too.
With her first feature, Scafaria said Seeking a Friend for the End came down to "making a flawed movie or no movie." The reviews ended up being mixed for her directorial debut, but thankfully, more people seem to be responding to The Meddler. Scafaria is a very talented writer — an early script of hers, The Mighty Flynn, seriously needs to get made — so fingers crossed her upcoming picture catches on with audiences.
Here's the official synopsis for The Meddler:
With a new iPhone, an apartment near the Grove, and a comfortable bank account left to her by her beloved late husband, Marnie Minervini has happily relocated from New Jersey to Los Angeles to be near her daughter Lori, a successful (but still single) screenwriter, and smother her with motherly love. But when the dozens of texts, unexpected visits, and conversations dominated by unsolicited advice force Lori to draw strict personal boundaries, Marnie finds ways to channel her eternal optimism and forceful generosity to change the lives of others—as well as her own—and find a new purpose in life.
The Meddler opens in theaters April 22nd.