'Ghost In The Shell' Displays Some Good Taste, Casts Takeshi Kitano In Major Role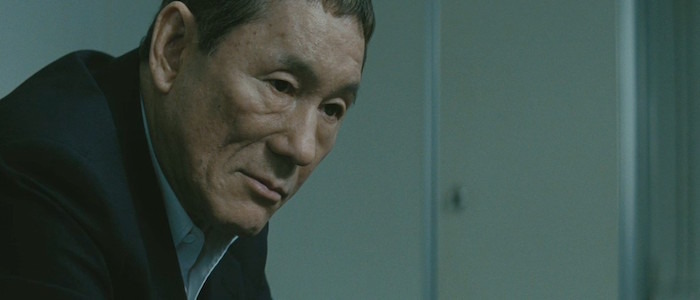 Ghost in the Shell stepped in a giant pile of crap the moment it announced that Scarlett Johansson would star in the upcoming American adaptation of the beloved Japanese manga. After all, Hollywood whitewashing is alive and well and still incredibly ugly, so the reaction to the very Caucasian Johansson taking on a character named Motoko Kusanagi in the source material was rightfully (and righteously) brutal.
I don't want to say that the casting of the great Japanese actor and filmmaker Takeshi Kitano is a direct response to this controversy (although it certainly feels like it), but I will say that Kitano is powerhouse performer and any movie is immeasurably improved by his presence.
Variety broke the news of Kitano's casting, revealing that he will play Daisuke Aramaki, the chief of Public Security Section 9, in director Rupert Sanders' film. For those unfamiliar with the Ghost in the Shell franchise (which comprises the original manga, novels, movies, TV shows, and video games in its native Japan), Public Security Section 9 is an organization dedicated to battling cyber-terrorists in the technologically advanced, cyberpunk future.
In other words, Kitano gets to play the guy who gives orders to Johansson's cyborg police officer. Maybe he'll even get to yell at her for taking things too far and such, as all movie police chiefs are wont to do.
Although not particularly well known in America (his last Hollywood role was in 1995's Johnny Mnemonic), Kitano is a hugely respected comedian, actor, and director in Japan. He initially rose to prominence through his comedy, performing under the name "Beat" Takeshi, but his film work took him to much darker places. His movies, particularly the ones he writes and directs, tend to be grisly, serious-minded films, often casting him as a cop or a criminal.
International audiences probably know Kitano best from his chilling performance as the main villain in Battle Royale or for his work alongside David Bowie in Merry Christmas Mr. Lawrence, but his filmography is filled with gems. I won't pretend to be an expert on his career, but I'm particularly fond of the crime thrillers Hana-bi and Outrage.
In other words, Kitano is a welcome presence in Ghost in the Shell, joining a cast that already includes Pilou Asbæk and Michael Pitt, who will play the villain known as the Laughing Man. Filming should begin soon, as that scheduled March 31, 2017 release date is only about a year away.