'Full House' Goes 'True Detective' In New Spin-Off With John Stamos, Bob Saget & Dave Coulier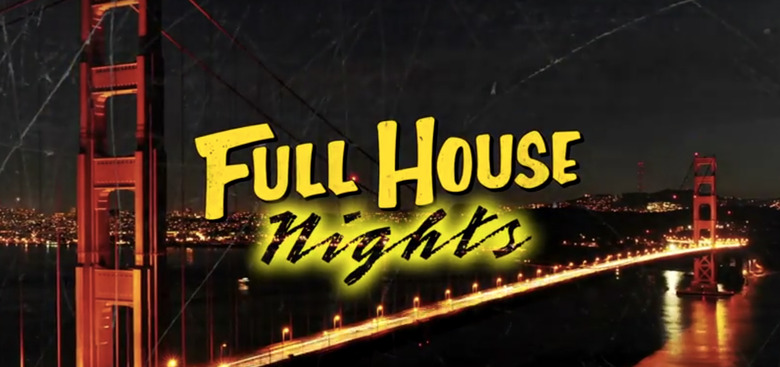 If you thought Fuller House was the only spin-off sequel series to the cheesy '90s sitcom Full House we were going to get, you thought wrong. Hot on the heels of a second season order for Fuller House, yet another spin-off series has been revealed.
Full House Nights follows Danny Tanner (Bob Saget), Jesse Katsopolis (John Stamos), and Joey Gladstone (Dave Coulier) after they put the girls to bed in the original series. Because that's when they turn into night time detectives of San Francisco. And if that sounds like something you just can't wait to see, then you can check out a clip below.
Here's the Full House Nights clip from The Late Show with Stephen Colbert:
With a title sequence inspired by True Detective, this looks like exactly what a Full House spin-off needs to appeal to a different kind of audience. If there's one thing that True Detective was missing, it was an impressionist cop to really help the case move along a lot smoother.
Here's hoping that Full House Nights, which sounds more like a porn parody on Cinemax, will be able to wrangle up more guest stars like Stephen Colbert as Dimitri. After all, Law & Order and all its spin-offs have cast plenty of big name actors in roles as criminals, so Full House Nights can easily do the same.
However, I have some questions about this project. First of all, if it takes place in the past, why does the credits sequence have a picture of Mary-Kate & Ashley Olsen as adults? When was this pilot made? Furthermore, how does this effects the Full House cinematic universe? Does what the Full House dads do in the past change the future? And where the hell is Mr. Woodchuck?
Thankfully, Full House Nights isn't real, so we don't have to worry about those questions. But what we do have to worry about is the runaway success of Fuller House paving the way for even more unnecessary nostalgic TV show reboots. Look, I grew up on Full House, and it holds a stupid, special place in my heart. But it's not a good show, and Fuller House doesn't do anything different. Let's not keep getting stuck in the past, folks. It's time to start cranking out more original content, because otherwise we'll have nothing to reboot in the future.