David Hasselhoff Confirmed For A Role In 'Baywatch' Movie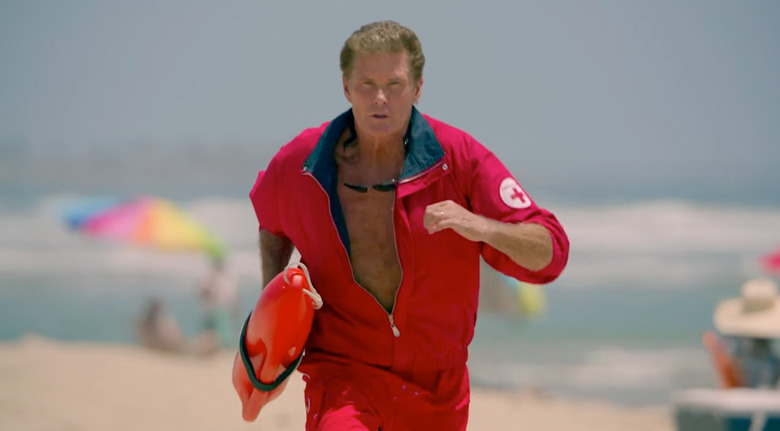 Even though Pamela Anderson is still figuring some things out regarding a potential appearance in the forthcoming Baywatch movie starring Dwayne Johnson and Zac Efron, one of the stars of the original TV series isn't wasting any time locking down a role in the movie.
A David Hasselhoff Baywatch cameo of some sort has been confirmed, and this comes straight from the set of the movie from Dwayne Johnson himself. So there's no need to hassle The Hoff about whether or not he'll be part of the movie.
Here's what Dwayne Johnson posted to Instagram yesterday:
"I WAS BORN READY!" Pleasure to officially welcome the original #BAYWATCH gangsta himself David Hasselhoff to our movie! #BAYWATCH is the most successful TV show of all time and from the day we announced we were turning it into a movie, "The Hoff" has been our greatest supporter. Especially once he knew our RATED R movie was going to be a combination of AVENGERS meets ANCHORMAN....????????????Hoff's a cool dude who's down to have fun and here's the best part.. He's been training his ass off and gotten in the best shape he's been in in years! (cue slo-mo running and glistening chest hair.. wait, why the f*ck am I even thinking about Hoff's chest hair!?) World get ready.. #RockAndHoff #ThereAintNoBay #WithoutTheHoff ????????????
That's right, David Hasselhoff was born ready. It's no surprise that he's willing to make an appearance in the movie that basically gave him a career. He's parodied his role on Baywatch plenty of times, including on the big screen in the completely ridiculous Piranha 3D. However, we know he won't be playing a version of his character from the original show because that's the role that Dwayne Johnson has. Maybe he'll be Johnson's mentor or the chief of police or something like that.
Hasselhoff was one of the main cast members of the original Baywatch, and he also produced the show until 2001, which was when things had gone off the rails with Baywatch Hawaii. At that point the novelty had just worn off and people were starting to get their daily dose of bikini footage (and more) from something called the internet. Plus, let's be honest, the show was just awful anyway.
But this movie based on the TV series sounds like a lot of fun. It's an R-rated comedic take on the show, and in addition to Dwayne Johnson and Zac Efron, we also have Alexandra Daddario (San Andreas), Ilfenesh Hadera (Billions), Kelly Rohrbach (a Sports Illustrated model), and Priyanka Chopra (Quantico) involved, not to mention comedian and Daddy's Home co-star Hannibal Buress bringing some laughs to the table as well.
Seth Gordon (Horrible Bosses, The King of Kong) directs from a script recently rewritten by Damian Shannon and Mark Swift, the duo behind the 2009 reboot of Friday the 13th and Freddy vs Jason. Baywatch arrives on May 19, 2017, and stay tuned for more from the set as Dwayne Johnson keeps spilling the beans. Maybe there will be a Yasmine Bleeth cameo to announce at some point.