Bennett Miller And Tom Stoppard Want To Sing 'A Christmas Carol'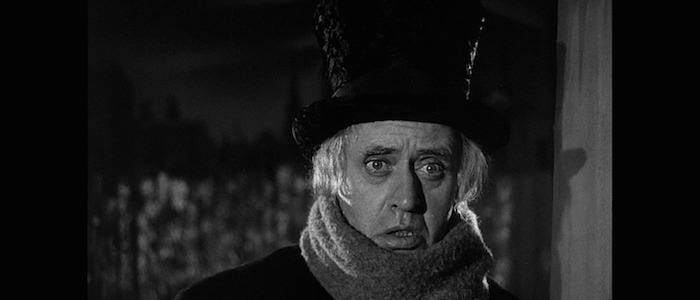 Every generation gets their version of Charles Dickens' A Christmas Carol and some of those versions are a little better than others. Sometimes, you get lucky and get to grow up with the wonderful 1951 version starring Alastair Sim or the surprisingly great A Muppet Christmas Carol. Others are cursed to live with 1970's atrocious Scrooge or Robert Zemeckis' truly awful 2009 CGI-animated clustercuss starring Jim Carrey.
You can tell a lot about a filmmaker based on what they focus on when they adapt Dickens' classic novella. Which means I now get to look forward to learning a thing or two about director Bennett Miller and writer Tom Stoppard, the unlikely duo who have been tasked with bringing this iconic story of holiday redemption to the screen for the umpteenth time.
According to The Hollywood Reporter, Miller and Stoppard are teaming up with Megan Ellison's Annapurna Pictures to make this new adaptation happen. Exact details are unknown, but they do confirm that this will be a period piece set in the 19th century and not some kind of fancy schmancy update.
If you're remotely familiar with pop culture, you know the story of Ebenezer Scrooge inside out. The callous and cruel moneylender is visited by three ghosts one Christmas Eve, who give him visions of his past, present and future and convince him to change his ways. The story has been adapted time and time again, but for good reason: it's a truly wonderful, timeless story that holds up under any context.
However, the absolute best versions are those that understand that Scrooge isn't just a mean old guy who gets scared into changing his ways by a team of ghosts, but a thoroughly broken man who built a suit of emotional armor around himself after one heartbreak too many. The worst versions of A Christmas Carol tell the story of a man who has a change of heart – the best tell the story of a man who learns to let go of his pain and find healing in the embrace of his fellow man. It's a small detail, but it's what separates a great adaptation from a merely good one.
I bring up the finer points of the novella because I can't imagine Miller and Stoppard making something too familiar or simple. If the director of Moneyball and Foxcatcher and the Oscar-winning screenwriter of Shakespeare in Love and Anna Karenina (as well as countless incredible, boundary-pushing stage plays) want to take on one of the most familiar stories in the western canon, they surely have a unique view on the material. Miller's work tends to be icy and aloof, fascinated by process. Stoppard has never met a formula or a template he hasn't wanted to invert or shatter. It's easy to imagine these two making this story their own, but it's also easy to imagine them subverting expectations and just adapting the original story as written, hitting the smaller, character-drive touches that often end up on the cutting room floor.
This project is still in the early stages and a lot can happen during development of a feature film, but I certainly hope this comes to pass. Someone needs to wash the taste of the of the 2009 film out of my mind and this sounds like a promising start.